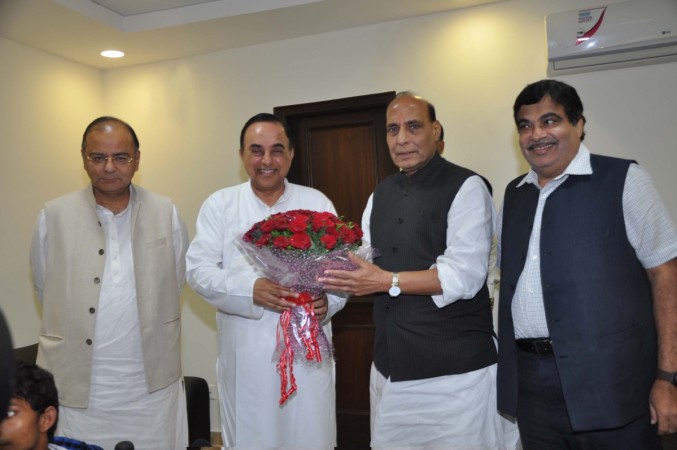 BJP leader and Rajya Sabha member Subramanian Swamy on Sunday seemed to make a u-turn from his diatribes against his party, Prime Minister Narendra Modi and the Central government, saying he was "misread." He also said the main-stream media, which he referred to as "MSM", had "got it wrong" when it "expected me to attack Namo [sic]" after an interview Modi gave to a news channel.
"MSM has misread me. They had expected me to attack Namo after the Times Now interview. Got it wrong. Then they twisted my twts. Wrong again! [sic]" Swamy wrote on Twitter, following the weeks of jibes he had taken at not only Cabinet ministers but also top bureaucrats.
Swamy had initially said Reserve Bank of India Governor Raghuram Rajan was "not fully Indian," after the central bank chief refused to change key banking rates to reflect popular opinion or for populism, and industry expectations.
After Rajan recently announced he would not be seeking to serve a second term in the RBI governor's office, Swamy trained his guns on Chief Economic Advisor Arvind Subramanian, seeking his resignation, and then Finance Secretary Shaktikanta Das, accusing him of corrupt practices.
Swamy also reportedly spoke against Jaitley, but without explicitly naming him.
This led to Modi rebuking him in a TV interview, saying: "Whether it is in my party or not, still I think such things are inappropriate. This fondness for publicity is never going to do any good to the nation. People should conduct themselves with utmost responsibility. If anybody considers himself above the system, it is wrong."
Swamy, meanwhile, is one of the people whose name is being considered for a portfolio in the rumoured upcoming Cabinet reshuffle at the Centre.