Following the death of 200 cows in a goshala run by Chhattisgarh BJP leader Harish Verma, which kicked off the controversy on Friday, he has now been alleged of skinning cow carcasses to feed the fishes in his pond. He is also being suspected of trafficking cattle.
Arrested BJP leader blames own government after 200 cows starve to death in his gaushala
An official of Chhattisgarh Gau Sewa Aayog, on the condition of anonymity, has confirmed they are investigating all the allegations levelled against Verma.
Meanwhile, an autopsy report has confirmed that the cows died due to starvation and thirst.
"It is clear that these deaths were because of lack of fodder and water. When we were feeding them, they were herding around the food like they have been hungry for days," said Dr MK Chawla, a member of a team inspecting the cow shelter, while rubbishing Verma's claim that 16 of the cows had died after a wall collapsed on them.
Though Verma was arrested on Friday and animal husbandry minister Brijmohan Agrawal on Saturday suspended nine other officers for "carelessness" and even issued a showcase notice to the secretary of Gau Sewa Aayog, he has ordered a fresh probe into the case and ordered inspection of all cow shelters.
After the cows died of starvation and lack of medicine in the cow shelter located in Rajpur village of Chhattisgarh's Durg district, Verma was beaten up by Youth Congress activists when he was being taken to the court on Saturday. The Youth Congress also blackened his face.
Verma had claimed he had alerted government agencies about the cash crunch at the gaushala, the Indian Express reported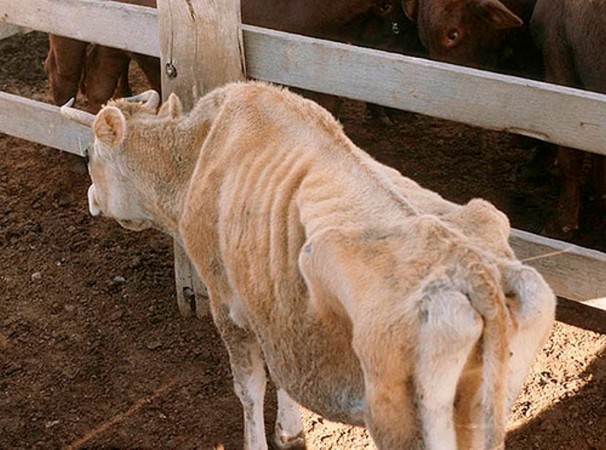 However, Dr Panigrahi of the Chhattisgarh Gau Seva Aayog — set up by the state government for the welfare of cows — said payments to the gaushala were suspended due to irregularities in its operations, such as overcrowding.
Meanwhile, teams sent to inspect two other shelters in Bemetara district, also owned by Verma, have dug out cow carcasses there as well.