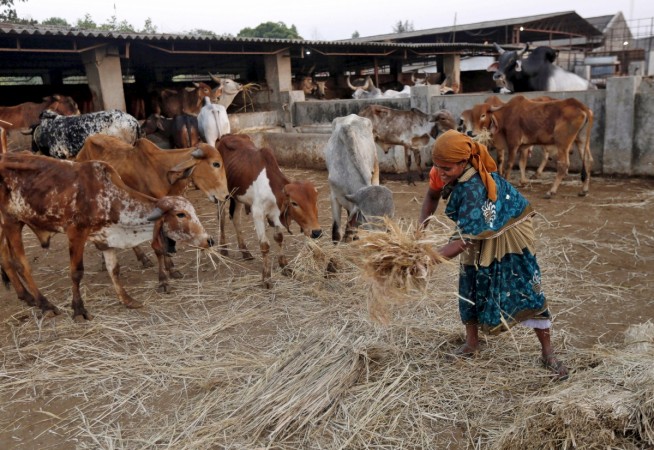 Harish Verma, a leader of the Bharatiya Janata party (BJP), was arrested on Friday after at least 200 cows died in a gaushala — cattle shelter — run by him allegedly due to starvation and lack of medicine in the Rajpur village of Chhattisgarh's Durg district.
Officials have confirmed 30 starvation-related deaths, Hindustan Times reported. Local villagers blamed Verma for the deaths of the cows.
However, the BJP leader has shifted the blame for the incident to the government run by his own party, claiming it did not release the annual grants required to maintain the gaushala in a state where cow slaughter is prohibited.
Verma claimed he had alerted government agencies about the cash crunch at the gaushala, the Indian Express reported. An FIR has been registered against him for "breach of trust and negligence."
"There are meant to be 220 cows, but there are 600. The government is meant to give me Rs 10 lakh per year to maintain the gaushala. But they have not paid for the past two years. I haven't got the Rs 10 lakh for last year, and while you are meant to give some money every three months, I haven't got any this year. I wrote to the Chhattisgarh Gau Seva Aayog in December [last year] and March about this," he said.
However, Dr Panigrahi of the Chhattisgarh Gau Seva Aayog — set up by the state government for the welfare of cows — said payments to the gaushala were suspended due to irregularities in its operations, such as overcrowding.
"Anyway, the grant cannot be the only source of income for a gaushala. Gauseva is meant to be self-operated and we can give assistance. The cows are weak and the district teams are working there now," he was quoted by IE as saying.
Verma, meanwhile, said: "I have been running this gaushala since 2010. I can't respond to unsubstantiated allegations, but only 16 cows have died in the last two days. The cows sent here are old and infirm, and there is no shortage of food or water. I have done nothing wrong. It rained two days ago and a wall collapsed, which is why they died."
However, a five-member team from the state veterinary department said the deaths did not take place due to any wall collapse.
"It is clear that these deaths were because of lack of fodder and water. When we were feeding them, they were herding around the food like they have been hungry for days. Since we came here yesterday, the situation has improved," Dr MK Chawla, a member of the team, said.