Remember when Cher wore a sheer feathered jumpsuit in 1974 during the Met Gala? Well, she almost brought back her '70s fashion style at the Billboard Music Awards 2017. The singer, who was honoured with the ICON Award on Sunday night, wore revealing outfits that reminded fans of her '70s and '80s fashion style.
The 71-year-old singer delivered a memorable performance on her '90s anthem Believe and her hit song, If I Could Turn Back Time, that was released in 1989. She started her performance with Believe and wore an outfit that left little to imagination. It consisted of thin silver chains dangling over a crystal bra. Cher used pink heart pasties to cover her nipples. She wore a blonde wig with pink-dyed ends and a lipstick shade that matched her dyed hair colour.
Also Read: Billboard Awards: Nicki Minaj puts on a sultry performance and Drake sings her praises
For her second performance, Cher surprised everyone when she wore her If I Could Turn Back Timesheer black thong bodysuit with a black leather jacket and a belt, proving to fans that she hasn't aged at all.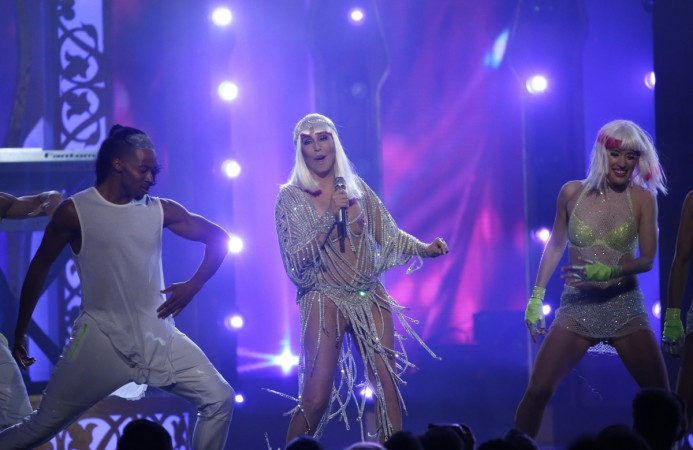 "I don't like getting old," she had told Billboard earlier. "I'm shocked that I can still run across the stage at my age. I thought I'd be dead!"
Cher attended the Billboard Music Awards 2017 on Sunday at T-Mobile Arena in Las Vegas to accept the ICON award and to perform on BBMA stage after a gap of 15 years.
The music award show honoured the best of artistes of 2016. Drake took home the most number of trophies and shattered Adele's record. Drake won 13 awards, including that for the Top Artist, Top Male Artist, Top Billboard 200 Artist, Top Hot 100 Artist, Top Song Sales Artist, Top Streaming Songs Artist and Top Rap Artist. Beyonce and Twenty One Pilots won five awards each, while The Chainsmokers won four awards.
Interestingly, South Korean boy band BTS also made their presence felt at the award show by winning the Top Social Artist of the Year award. Check out the complete winners' list here.