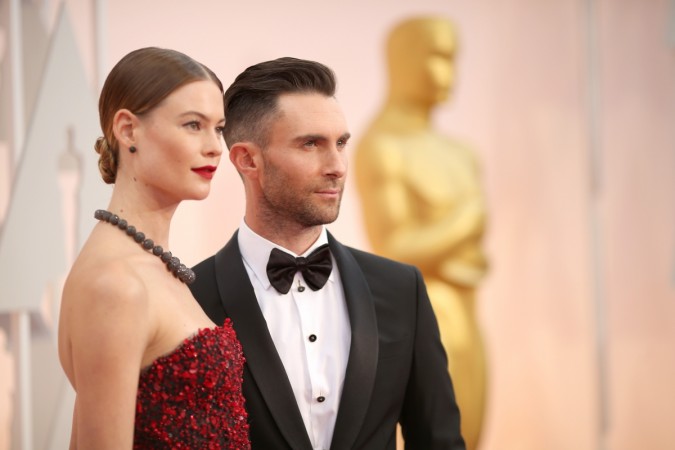 Oh well, it looks like Prince William and Kate Middleton will not be the only couple making headlines early next year about the newest member joining their family. Maroon 5's hot lead singer Adam Levine and his wife Behati will be sharing some limelight as they will be expecting their second baby around the same as the royal next year.
The gorgeous model has confirmed that she is pregnant again and their family of three will turn four next year. The formal announcement was made by Levine's gorgeous wife on Instagram.
Also Read: Adam Levine grabs Behati Prinsloo's thong derriere to show off new tattoo
Posting a picture of her growing baby bump, the model announced that she is pregnant again. "ROUND 2....." she proclaimed as she clicked a bikini-clad selfie to show off her bump.
A source told People that the couple is excited about welcoming their second baby. "Adam and Behati are so happy to be adding another baby to their family. They're amazing parents and their loved ones are thrilled for them," the source shared.
It has just been a year since the couple turned parents. They had welcomed their daughter Dusty Rose in September 2016.
An insider revealed that What Lovers Do hitmaker shared the great news with his co-judges of The Voice and the crew was stunned by the news. The source claims that while the team of the popular show was happy for Levine, they were hoping that Blake Shelton and Gwen Stefani would be the next couple to announce their pregnancy.
"Everyone thought the next baby in The Voice family would be coming from Blake and Gwen. Everyone is expecting Blake and Adam to joke about that during the show when the show finally ends up going live later in the year," the insider told Hollywood Life. "Everyone expects they will joke about how many Voice winners they each have and how many babies they have," the source added.
Fans will have to wait and watch to see if Blake and Gwen will join Levine and Prinsloo to give us the good news. As of now, congratulations you guys!