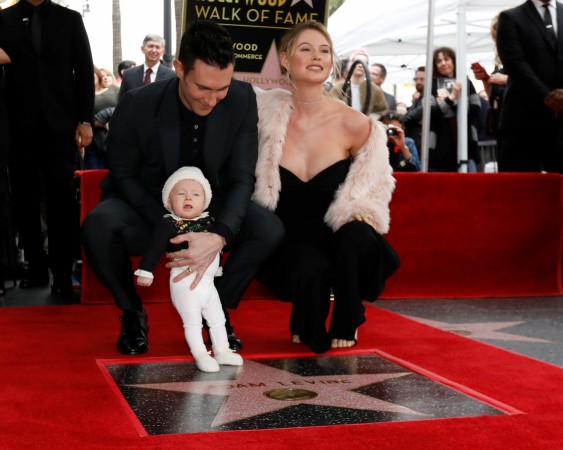 One must take classes from Adam Levine on how to put a head-turning display of your new tattoo. The renowned singer informed the world about his new tattoo in the hottest way ever!
The Maroon 5 singer is married to Victoria's Secret model Behati Prinsloo and displayed his new ink that read True Love in a black and white picture by grabbing her derriere.
Also Read: Forget diamond rings, it's time for wedding tattoos
The arty picture highlights his tattoo and a thong wrapped butt giving fans an eyeful of both in one picture. The singer shared the picture on his Instagram and fans have gone wild. The picture has already received over one lakh likes. The art work is done by Bryan Randolph.
Sharing the picture, Levine captioned: "....it's worth holding onto..." and it is evident that he has held his wife's booty as though disclaiming that she is all his. Agreeing to their favourite singer, fans dropped in numerous comments appreciating the art work and his wife's booty.
"True love is booty," Rohana Zaman commented on the sexy picture. Another user, Julia, appreciated the model and said, "Keep this woman save always, because she is simply the best."
Many even went on to call the couple the best and sexiest parents in Hollywood. Some event enquired if it was a cover of his new single.
Levine is not new to the tattoo world. He is becoming a pro at getting inked. The 38-year-old singer has a number of body art to put on display and most of them are courtesy True Love artist Randolph.
The True Love tattoo adds up to the long list of tattoos the Cold singer has. Levine is buried under designs that range from a dove to guitar and a dog paw. He also has a Hindi tattoo that reads tapas. Levine has not shied away from trying all things permanent.
Levine sports a tiger on his elbow, roses on his shoulder, eagle on his chest, cherry blossoms and doves on his left arm in the memory of the many lives lost in the tragic 9/11, a pin up girl on his back and the door number of the studio that Maroon 5 recorded in the very first time, among many others.