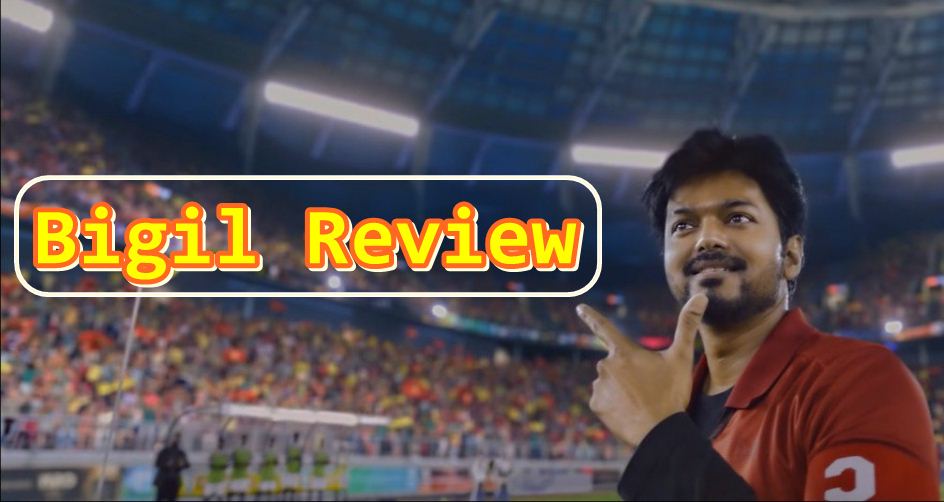 After delivering two blockbusters in the form of Theri and Mersal, Atlee Kumar has united with Vijay again for Bigil. Like their previous movies, this is not just an action-packed commercial entertainer, but a film centered around the football sports.
Nayanthara, who had earlier worked with Vijay in Sivakasi and Villu, has romanced him in Bigil. Kathir, Yogi Babu, Vivekh, Jackie Shroff, Kathir, Indhuja Ravichandran, Anand Raj, Reba Monica John, Varsha Bollama and others are part of the supporting cast. The film has AR Rahman's music, GK Vishnu's cinematography and Ruben's editing.
Bigil Story:
Thalapathy is appearing in dual roles of a gangster father (Rayappan) and son (Michael aka Bigil). The do-gooder don wants his son to become a football champion, but the fate has something else in store as he is forced to bid goodbye to it after he is hit by a personal tragedy. Kaithi Movie Review
Rayappan hoped his son would fulfil his dream, but violence around Michael's life shatters all the wishes. Seven years later, the life gives an opportunity again to prove himself after he replaces his friend Kathir (Kathir) as the coach of women football team. Will he fulfil his father's dream this time? Answer to this question forms the crux of the story. Bigil Review
Bigil Analysis:
Bigil is a tailor-made movie for Vijay fans as it has ample of goose bumps-inducing moments. 'Verithanam' song drives the audience craze in theatre. The movie begins with all energy, but drags a bit later. The romantic portion between Vijay and Nayan gets quite boring, but Rayappan's portion lifts the mood. However, the interval block gets a thumbs up from the viewers.
The second half is far better than the first as it is neatly packaged. The emotional moments work big time and the much-expected football portion is neatly shot although VFX works are not up to the mark, at parts. While the women empowerment angle works, the lack of depth into the story remains a major drawback.
What works in favour of the film is Vijay's both roles. His timing of comedy, the intensity in Rayappan's character, dance and his overall contribution to the roles are praise worthy. Indhuja Ravichandran, Reba Monica John and Varsha Bollama's impress the viewers in their limited roles.
Average Ratings Given by Audience: 3
Rahman's all five songs have stuck the chord with the listeners and has become his biggest chartbuster album in the recent years. Especially, 'Singappenney,' 'Verithanam' and 'Unakaaga' have won the hearts of the music lovers. GK Vishnu's visuals need special mention.
Overall, it is an enjoyable action and emotional film.
Will it live up to the viewers' expectations? Check it out in the viewers' words below:
Rajasekar: #Bigil - I suggest 15 mins trimming in the first half. Second half no lag at all!
#Bigil - Someone pl make an emotional rollercoaster with 'actor' Vijay. He is sure to send us back home with moist handkerchiefs and watery eyes. What an actor!!
#Bigil - @Atlee_dir puts Chak De comparison to rest. A lot of original moments in the second half of the film. If someone wants to make a football based film in India , they can use #Bigil's second half match episodes as a case study. Tharam @dop_gkvishnu
#Bigil @Atlee_dir has delivered the first half for fans. Second half for all center audiences. He exactly knows how to handle a big star in a content driven sports film. Emotions at it peaks in the second half. Brilliant brother
#Bigil - Hats off @Atlee_dir for authentically portraying the football match, vera level grandeur. Single man
@dop_gkvishnu does the job of multiple cameras which are usually involved in capturing international football matches. A feather on
@Ags_production 's cap.
#Bigil - Scenes where Thalapathy Vijay proves his football expertise and train the girls in the second half, motivates them in the right places are sure to touch the hearts of the audiences. Brings tears in 2-3 scenes. The pre-climax anger provoking speech is vera level
#Bigil 2nd half is fantastic . A sure shot winner at the box office,
@Atlee_dir scores sixer in the emotional sequences. Football episodes are mind-blowing. What an incredible performance by Thalapathy Vijay, easily one of the best in his career
#Bigil The romantic scenes featuring Nayanthara and Vijay test the patience, comedy is just okay. Combination scenes featuring Rayappan and Bigil are the highlights so far!
#Bigil first half - It's Rayappan's show all the way, Thalapathy Vijay is brilliant as the stammering aged gangster who is also a doting dad. The football episodes look grand.
Sudhir Srinivasan: No film is more appropriate to be dedicated to women than one designed with the singular intention of glorifying a man, shown to be the messi-ah of women. (You can bear this pun if you accept that a character is called Nessi in the film). #Bigil #BigilFDFS
Nothing screams ally more than referring to child-begetting and rearing as the definitive traits of a strong woman. #Bigil #BigilFDFS
Nothing screams football more than bicycle kicks and rainbow flicks. #Bigil #BigilFDFS
Nothing says female empowerment more than a deified man handholding a group of women towards success. #Bigil #BigilFDFS
Sidhu: #Bigil: Gotta mention 'Bigil Bigil Bigilumaa' - definitely one of the best theatre moments in the film. #ThalapathyVijay and Lady Superstar #Nayanthara dancing together - looked so good, it's all about the lovable grace!
#Bigil: While #Verithanam is a surefire feast for the fans, the two other songs in Maathare and Singapenney are the film's golden grounds. Excellent work by
@dop_gkvishnu to capture true emotions in the former, loved the music video style in the latter!
#Bigil: Such a joy to watch #ThalapathyVijay in these shades - while #Rayappan rocks the first half, it's CM (Coach Michael) who takes over in the second. Vijay has totally enjoyed himself doing the roles, after #Kaththi I felt this one had lots of acting scope and he won it!
#Bigil: @Atlee_dir walks the talk by pitching the women empowerment angle of the film in style. It's an emotional tour de force that works majorly thanks to
@VarshaBollamma & @Reba_Monica's characters. Lot of crowd-friendly moments!
#Bigil: Bayangaram. Very satisfying entertainer that scores superbly in the second half thanks to the excellent emotional core. There are flaws here and there, but this one gives you the bang for the buck. #ThalapathyVijay - simply awesome!
Forum Keralam (FK): #Bigil Coming to the much talked about football portions it is a hit and miss game as couple of games r well executed while the rest r odd, especially the first game featuring Vijay. Technically sound with good scores from Rahman & neat visuals from Vishnu.VFX part is mediocre.
#Bigil : Nayantara is fine in her role while the real hero's are the girlsVarsha Bollamma and Reba gets the best roles while Amrita, Indraja etc were ample. Vivek, Yogi Sethu, Jackie Shroff etc are typical.
#Bigil : Thalapathy Vijay in his best here with both the roles giving him scope to perform and so many whistle worthy sequences. The only flaw was his young portions where neither comedy or romance worked.
#Bigil Though Atlee compromised towards last 20 mins he gets the job done commercially as emotional elements works big time. Okay 1st half followed by a solid second sans for the above said final act. Treat 4 fans, decent 4 rest. Thalapathy to take care of the box office part
#Bigil Decent first half.. Nothing big to offer as a storyline while executionAtlee scored big time at the interval block. EMOTIONALLY well connected... Rayappan Charachter
Prashanth: #Bigil - Second half and it's emotions - Game saver and changer. Respect to
@actorvijay and @Atlee_dir for taking women empowerment to the masses, for conveying it in a language that everyone will understand !!
You should b really proud to produce this movie @archanakalpathi!
Sathish Kumar M: #Bigil #BigilReview Kudos to #Thalapathy
@Atlee_dir & @archanakalpathi for giving us a message oriented women empowerment film, with all the commercial elements at the right proportions.
#Bigil #Rayappan Characterisation & Second half is quite sufficient enough to make the film as Blockbuster for #Thalapathy fans. #Verithanam & #Singappenney Songs Visuals were awesome.
Lots of emotional scenes and sentiments to attract the family audience
#BigilReview #Thalapathy impresses as Gangster and loving Dad #Rayappan in the first half and as a motivational coach #Michael in the second half. Atlee has tried to engage the audience with lots of emotional scenes along with football scenes in the second half.
#Bigil First half - Liked the scenes between #Rayappan & #Michael. As expected, #Rayappan is one of the best characterisation in #Thalapathy's career. Introduction scenes have come out well. Expecting second half to be engaging as #Thalapathy will rock as Coach
#Bigil Waiting la Veri Yeruthae... #Verithanam-ana waiting for several weeks.. But, this one hour delay will really test patience of the audience..
@Ags_production @archanakalpathi - Can u Plz let us know atleast when shows will begin officially?
Haricharan Pudipeddi: Amazing how @Atlee_dir has managed to push boundaries with each outing with #ThalapathyVijay, and with #Bigil he aims high and manages to deliver in the most satisfying way. Also, great work by
@Reba_Monica @AmrithaAiyer and @VarshaBollamma with good screen presence.
#Bigil is a big step up for @Atlee_dir in terms of scale and vision, and he pulls it off with ease. A sports drama that's powered by a strong emotional core and a terrific #ThalalathyVijay in two extremely entertaining roles. Football portion in the second half is a major plus.
Riyas Alpha: #Bigil (Tamil) - Interval - No boring portions, no great portions too. There is an ample number of good moments, but they don't convert as powerful scenes. The flow is pretty neat, the intentions are appreciable.
The real game actually begins in now...
'Decent' so far.
SENTHURAN: Just now Watched #Bigil (3am show)...
Many goosebump moments
Action & Sentiment Drama ❤
#Thalapathy merattal perfomance
Full of Mass Elements & Entertainment
As a Thalapathy fan I give 5/5 for this film...
As a neutral I give 4.25/5 ✋
Kevin Rohind: #BIGIL Interval - "SOLLI ADICHIRUKKANGA" #Thalapathy & #Atlee Adichu norikkiranga ! #Rayappan verithanam massss ! #Michael #Bigil Intro ppppahhhh ❤⚽ #Verithanam paattu dance Emotionally moved ! Sure shot winner this is ! Madly waiting for d 2nd half to begin
monster BIGIL: #Bigil First half - Liked the scenes between #Rayappan & #Michael. As expected, #Rayappan is one of the best characterisation in #Thalapathy's career. Introduction scenes have come out well. Expecting second half to be engaging as #Thalapathy will rock as Coach
Mahesh: Rayappan character verithanam Thalapathy show
Typical @Atlee_dir style movie
#Vijay sir performance peaks with emotions at Right Time
Perfect Diwali movie
#Bigil definitely shatter TN box office records
Congrats to #Bigil Team
#BigilReview (3.5/5) #BigilUSA
Jishnu Today Times : #Bigil First Half review:
If Vettrimaaran was the backbone of #Mersal then #Rayappan is for #Bigil.
Intro fight, DOP, Rayappan fight scenes, Post interval scene from Railway station are the highlights. #Thalapathy verithanam...
BLOCKBUSTER FIRST HALF... #BigilReview #BigilFDFS
G.Kevin: #BigilDiwali #Bigil #BigilFDFS 1st Half : Thalapathy Vijay as Michael Intro Start Off With Fight ..1st Song - VERITHANAM ... Comedy Between Nayanthara & Vijay ..Kathir Entry .. Kathir Recommends Michael Known As BIGIL To Replace Him As Women's Football Coach ..1st Half Rating 4/5
Diwali releases report after telugu version censor , #Whistle (#Bigil ) : above average (voice dubbing is average)#Kaidhi (#Kaithi) : may receive mixed reviews as it is not for all audiences.

— y (@xMselva) October 23, 2019
Almost time for Singapore thathas, Dubai mamas, US thambis to give review right?
First half kola mass, Dr. Joesph swag, Messi vida verithanam. Second half marana mass, double action, climax match ghilli level, etc. Atlee, vera level.#Bigil

— Rathnavelu (@nvenkatr) October 23, 2019
Related
Bigil box office collection: Vijay's film to shatter Ajith's Viswasam lifetime business from premieres alone in USA
Shah Rukh Khan's offers this huge remuneration to Atlee to direct his next film
Vijay's Bigil recovers 60 percent of its investment already, to do Rs 200 crore business before release