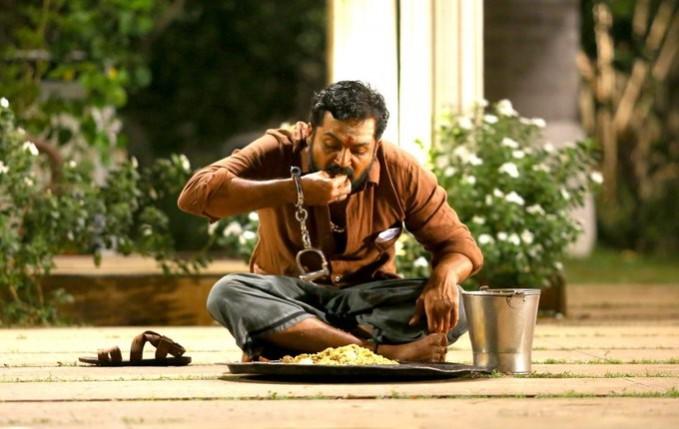 After his much-hyped Dev bombed at the box office, Karthi has teamed up with Lokesh Kanagaraj of Maanagaram fame for Kaithi. It is an action thriller in which Narain plays an important role and this project does not have a female lead.
George Maryan, Ramana, Dheena, Vatsan Chakravarthy, Yogi Babu, Ponvannan and others are in the cast. Sam CS has composed the music, Sathyan Sooryan's cinematography and Philomin Raj's editing. Bigil Review
The story of Kaithi is about Dilli (Karthi), a prisoner on parole. It deals around the convict who is serving his lifetime term.
The cops headed by Bejoy (Narain) have seized cocaine worth crores of rupees. They have hidden it in the police commissioner's office. The drug mafia desperately wants to recover it by hook or crook and carries out a plan to bring it back into its fold by mixing poison to a drink.
Bejoy now seeks a help from Dilli, a prisoner on parole to meet his daughter who he has never seen before. What follows next is the intriguing action-packed thriller.
Analysis:
Lokesh Kanagaraj has come up with a brilliant screenplay although the film has a wafer-thin storyline. He has created interesting turn of events out of simple situation, displaying once again the control he has over the art of narration. Karthi's flawless acting, despite heavy dose of action, makes the movie an interesting watch. The BGM and cinematography are the major highlights of Kaithi.
Hype:
Vijay's Bigil has taken away all the attention away from Kaithi, but the Karthi-starrer has impressed the viewers with its teaser and trailer. Lokesh Kanagaraj had impressed the audience in his first movie and he will team up with Thalapathy in his next flick. This factor would definetely attract the viewers towards the film.
Will it live up to the viewers' expectations? Check it out in the viewers' words below:
Rajasekar: #Kaithi - IMO @Dir_Lokesh's biggest victory is his ability to do a no-nonsense action thriller despite having a star like
@Karthi_Offl on board. Must appreciate Karthi and producer @prabhu_sr for respecting Lokesh's treatment and script!
#Kaithi - I always had this question on why our filmmakers give old fashioned weapons to our mass heroes.
@Dir_Lokesh finally satisfied the action lover in me with the jaw dropping climax ft. @Karthi_Offl . Marana mass
#Kaithi - DOP Sathyan Sooryan's work in capturing the expressions of the actors with minimal lighting and night effect deserve awards next year.
@SamCSmusic ' background score is lit
#Kaithi - A solid action thriller with no songs, needless romantic track and any other routine commercial elements. Kudos
@Karthi_Offl for playing a protagonist without formulaic mass glorification. A game changer in Tamil cinema.
@Dir_Lokesh is the man to watch out for in TC!
Haricharan Pudipeddi: #Kaithi 5 stars. Picking pieces of jaw from the floor. A relentless action film set in a world where Virumaandi meets Die Hard meets Assault on Precinct 13. Absolutely brilliant. Still can't believe how
@Dir_Lokesh pulled it off. A new benchmark has been set for action films
Sidhu: #Kaithi: Kick-ass. First and fantastic complete action film in Tamil cinema, packed with just the right amount of emotion. Doesn't even waste a minute and keeps you pinned with a good load of surprises all the way. And boy what a fiery climax, full credit to
@Dir_Lokesh
RaviSrini_Official: #kaithi
Guys...i feel it's a real treat for diwali.
Watched both #bigil and #kaithi.
Seriously kaithi took Tamil cinema to another level.
It's a true blockbuster content.
Director Lokesh Wil sure give memorable hit for thalapathy.
Ramesh Bala: #Kaithi [4/5] : A solid action thriller..
A movie that stays true to its genre from start to end..
@Karthi_Offl has rocked it.. Both action and emotional scenes..
@itsNarain is good..
Great ensemble cast and acting..
A milestone movie in Tamil cinema in terms of technical department work..
@SamCSmusic BGM is the backbone..
Excellent camera by @sathyaDP
So is editing.. #Anbariv stunts raw and real
@Dir_Lokesh takes his writing and directing skills to next level..
#Kaithi 1st Half : A racy action thriller..
Multiple threads leading to one destination..
@Karthi_Offl subtle Mass.. His longing for daughter
One long night.. @SamCSmusic BGM theri..
@Dir_Lokesh proves he is a Master Dir..
Sidhu: #Kaithi Interval: Rocking. @Dir_Lokesh is serious talent, he holds your attention right from the start with a tightly knit screenplay-based action film. So many intense moments that deserve the big screen watch,
@SamCSmusic ' score is extraordinary!
clarance: Watched #Kaithi Awesome movie n interval block are the goosebump moments...Bgms are rocking... action sequences are stunning. Superb movie. Hatsoff team
@Dir_Lokesh @prabhu_sr @Karthi_Offl @SamCSmusic
Christopher Kanagaraj: #Kaithi - Karthi has given an extra ordinary perf. Dheena scores. Film has lot of action gud sequences. No songs/ heroine. Technically its brilliant with Superb BGM, screenplay, Camera & editing. Intense 1st half. Decent 2nd hlf - most scenes give a repeatative feel. Gud Watch!
Prashanth Rangaswamy: #Kaithi Interval - Want a word better than Brilliant. Tha
@Dir_Lokesh - Nee inga irukka vendiya aal illa thalaiva. Annan
@Karthi_Offl kannu pesuthu !! @SamCSmusic BGM - Truly international. Stunned so far !!
The way they have executed the stunt sequences and the way they have given attention to even the tiny details - Really respect the team for respecting the audience !! #Kaithi
Sundeep Kishan: Watch out for #Karthi 's #Kaithi Tomorrow guys , from the director of #Nagaram ...beyond being a brother
@Dir_Lokesh is by far one of the most honest & hard working filmmaker's I have had the pleasure of rubbing shoulders with...& this film is just something else. @prabhu_sr
Anns siva: #Kaithi it's a great deal to keep the audience engaged for 2 1/2 hrs without any day light. Excellent cinematography , terrific stunts and logically convincing tight screenplay though monotonous at parts . Over all a brilliant movie making by @Dir_Lokesh
iSManiGandan: #Kaithi
Done with the 1st half.
So far so good. Good mix of emotions & actions. #Karthi in a very memorable & joyful Joyful character. His character will be remembered for a long long time.
My rating for 1st half: 4.253/5
Now waiting for 2nd Half.
Shravan Kumar: Saw #Kaithi you will stay in edge of the seat making the movie is very tuff than making a scenes this movie shows the tuff, Karthi given extraordinary performance, the making fulfilled by a Good Director, BGM+ Editing is next level... #KaithiDiwali