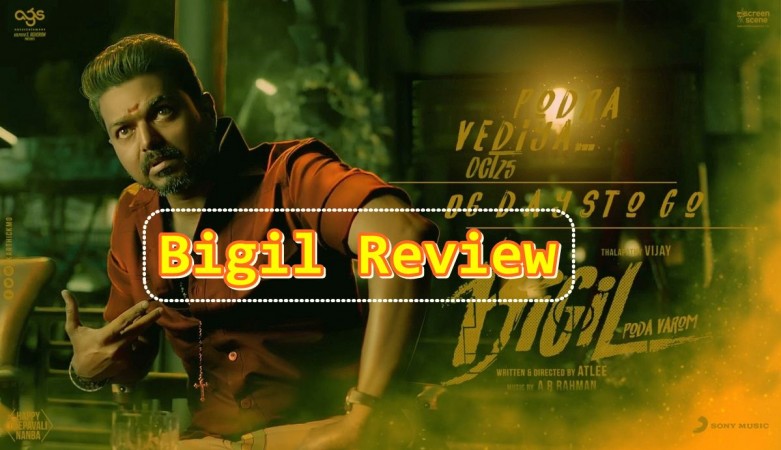 Vijay and Nayanthara's Bigil has garnered fairly positive reviews from the critics and audience. Thalapathy's performance in two roles backed with a decent storyline and other necessary commercial elements have impressed the cine-goers.
Bigil Story:
In this unpredictable life, unexpected developments could change the course of one's path and the story Vijay's Bigil too is built on those lines. Rayappan is do-gooder and a gangster, who dreams that his son Michael would become a football champion. He believes it could make a difference to uplift the lives of his people.
A tragedy strikes Michael and his ambition thrown into dustbin. Years later, he, unexpectedly, gets the opportunity to coach the women's football team and the rest of the story is predictable.
Bigil marks the third union of Vijay with Atlee Kumar after Theri and Mersal. Their first two films were pure commercial entertainers, but this one stands different from their previous flicks as it is a sports drama which also talks about women empowerment. Kaithi Movie Review
Vijay's Bigil is a sports drama packed with necessary commercial ingredients. The movie has a lot of comedy, drama and action backed with Vijay's performance, say the viewers who have already watched the film. Nayanthara is equally good and other supporting actors have done justice to their roles.
AR Rahman's music is the biggest strength of the movie with all his songs striking the chords with the viewers. 'Singapenney' and 'Verithanam' are the picks from the album. GK Vishnu's cinematography and the top-class VFX have enhanced the overall quality of the film, claim viewers.
Check out the viewers' response to the flick:
Deepak : #Whistle 1st half is average (Tamil flavour, may work for Target audience) and 2nd half is Good. Smartly packaged Entertainer with good balance of social and commercial elements. Worth a watch. #Bigil
Sreedhar Pillai: #Bigil is an adrenaline pumping mass entertainer, #ThalalathyVijay's best ever performance and fantastic packaging by
@Atlee_dir where he mixes all commercial ingredients and women empowerment in the right mix along with rich production values. It's all about "Teamwork".
Review Ram: #Bigil (Tamil) - Interval - No boring portions, no great portions too. There is an ample number of good moments, but they don't convert as powerful scenes. The flow is pretty neat, the intentions are appreciable.
The real game actually begins in now...'Decent' so far.
#ThalapathyVijay has hit it out of the park. The star has been utilized very well as an actor too with 'Rayappan' character. He has shown great variations. GK Vishnu's cinematography is amusing BTW.
#Bigil... Halfway mark!
At this peak stage of his career, kudos to #ThalapathyVijay for choosing to do a film like #Bigil. Fun and fit as Bigil, strict and suave as Michael, mass and emotional as Rayappan. Taking the backseat in the second half and leaving women to shine
#Kaithi (Tamil) - Interval - No big complaints. An interesting premise that has multiple angles. Situations are smartly written and well-knitted. Action portions are tight, Dheena provides comic relief & there's emotion quotient too. Goes crazy close to the break. 'Good' so far.
#Bigil (Tamil) - 2.75/ 5.
Could have been crisp. Yet a satisfying package with a decent mix of masala elements, sports angle, touching human emotions. Watchable 1st half followed by neat 2nd half.
George Vijay: #Bigil
Wanted to write more.But rushing to my 2nd show now.Later!
Bigil is full of whistle worthy moments.
Enjoy this sure shot BLOCKBUSTER guys. Thalapathy has won again&even bigger with strong performances this time. Thanks to
@Atlee_dir. Tight hugs @actorvijay ❤ #BigilReview
Need to give a round of applause to @dop_gkvishnu bro. His cinematography is spectacular and gives a grandeur experience to this sporting masterpiece.
@AntonyLRuben wow work bro. Not even a single draggy moment despite its long duration. #BigilReview
If you think the first half is great, trust me the second half is greatest.
Each and every scene is gripping in second half. It scores full with regard to its central theme football choreography and emotional core. ARR's BGMs and cues are astonishing!
Bigil is a showcase of what happens when Thalapathy Vijay and @Atlee_dir are in their full powers. #Rayappan is #Vijay's new incarnation as an actor. He will leave you emotional and earn maximum applause.
Thalapathy pulls it off as both aged dad and son! #BigilReview
Inspiring. Impactful. A sporting achievement in Tamil cinema.
Bigil is a definite triumphant that scores high in multiple aspects with peak performances from Thalapathy. Take a bow,
@actorvijay. Rayappan&Micheal/Bigil, #Vijay's highest of acting powers. #BigilReview
For me this is Thalapathy's best first half after Thuppakki this decade. There are so many moments that will make you whistle, screams and will also leave you emotional.
Into the second half. #BigilFDFS
#Michael is effortless and is such a delight. Football choreography truly stands out. ARR's BGM is his best in recent times.
Atlee has rendered emotional moments which work big time. #Rayappan is #Vijay's peak performance
First Half - A WINNER! #BigilFDFS
Brilliant with plenty of high points. Atlee's writing is flawless. It's sheer joy watching Thalapathy as #Rayappan.He delivers a towering performance,will be remembered forever.Having happy tears.Big hugs
@actorvijay Blockbuster stamped all over it.#BigilFDFS
Rajasekar: #Bigil - I suggest 15 mins trimming in the first half. Second half no lag at all!
#Bigil - Someone pl make an emotional rollercoaster with 'actor' Vijay. He is sure to send us back home with moist handkerchiefs and watery eyes. What an actor!!
#Bigil - @Atlee_dir puts Chak De comparison to rest. A lot of original moments in the second half of the film. If someone wants to make a football based film in India , they can use #Bigil's second half match episodes as a case study. Tharam @dop_gkvishnu
#Bigil - @Atlee_dir should come up with #Bigil sequel with 'actor' Vijay. I'm sure there are possibilities for sequel because this is going to be a BLOCKBUSTER!!
#Bigil @Atlee_dir has delivered the first half for fans. Second half for all center audiences. He exactly knows how to handle a big star in a content driven sports film. Emotions at it peaks in the second half. Brilliant brother
#Bigil - Hats off @Atlee_dir for authentically portraying the football match, vera level grandeur. Single man @dop_gkvishnu does the job of multiple cameras which are usually involved in capturing international football matches. A feather on @Ags_production 's cap.
#Bigil - Scenes where Thalapathy Vijay proves his football expertise and train the girls in the second half, motivates them in the right places are sure to touch the hearts of the audiences. Brings tears in 2-3 scenes. The pre-climax anger provoking speech is vera level
#Bigil 2nd half is fantastic . A sure shot winner at the box office, @Atlee_dir scores sixer in the emotional sequences. Football episodes are mind-blowing. What an incredible performance by Thalapathy Vijay, easily one of the best in his career
#Bigil The romantic scenes featuring Nayanthara and Vijay test the patience, comedy is just okay. Combination scenes featuring Rayappan and Bigil are the highlights so far!
#Bigil first half - It's Rayappan's show all the way, Thalapathy Vijay is brilliant as the stammering aged gangster who is also a doting dad. The football episodes look grand.
Sidhu: #Verithanam was PHENOMENAL!
One of the best intro numbers for #ThalapathyVijay in a long time.
@dop_gkvishnu hit it outta the park with the RED tone and fabulous cam placements. Such an enjoyable experience seeing it with a packed crowd!
#Bigil
#Bigil Interval: Good going. Starts off with solid celebrations and then moves on to a laid-back mode with the Vijay-Nayan track. #ThalapathyVijay as #Rayappan is the show-stealer here, every moment with him has been great so far!
Ramesh Bala: #Bigil [3.5/5] : A Pakka Mass Entertainer with a good message..
#Thalapathy @actorvijay has simply rocked in multiple roles..
#Rayappan is Mass with dignity..
Coach #Michael is Mass with #Thalapath usual style..
#Bigil 's scenes with #Rayappan are cute..
#Bigil [3.5/5] : @arrahman's BGM best in recent years..
@dop_gkvishnu Excellent camera work..
@Atlee_dir has packaged well with Mass, Sports, Emotions and a good message about women empowerment..
Apt for festival release.. #Thalapathy @actorvijay and @Atlee_dir combo
#Bigil [3.5/5] : #Nayanthara looks beautiful.. Her romantic scenes with #Thalapathy
@actorvijay are enjoyable.. All #Singapenneys are good.. Especially liked
@Reba_Monica's acid survivor episode.. "Bet Match" football choreography is good..
@am_kathir has done well..
#Bigil 1st Half : Marana Mass..
#Thalapathy @actorvijay Verithanam..
Intro, songs and action sequences execution will exceed fans expectations..
@arrahman BGM Theri..
This is the best 1st half in any
@Atlee_dir movie..
Bigil Class.. Rayappan and Michael Mass..
Kaushik LM: #Bigil - 3.25/5. A universally pleasing 2nd half, unanimously connecting women's sentiment and emotions, extremely likable #Rayappan character, the trademark #ThalapathyVijay 'mass' magic & engaging women's football episodes make this a 6-60 winner.@Atlee_dir @Ags_production
#Bigil -Among the girls, @Reba_Monica, Amrita Iyer, Robo Shankar's daughter & @VarshaBollamma make the best impression
#ThalapathyVijay is rocksolid as the coach - he lets the girls take centre stage & also rocks in the mass scenes & football coaching scenes. Winner
@Atlee_dir
#Bigil 2nd half works far far better than the 1st half. Sureshot Hit again for the #ThalapathyVijay -
@Atlee_dir duo #Mathare, #Singappenney & the entire women's football angle works grt for the film. Emotions click very well
Mass Coach Vijay scenes >> footballer Vijay scenes
#Bigil 1st half - #Verithanam visuals will be a benchmark for mass tracks -
@dop_gkvishnu gives a reddish tone which adds to the rage and energy among fans. Super experience.
We see #ThalapathyVijay, the mass entertainer as well as the 'actor'. He holds the show singlehandedly!
#Bigil 1st half - Gets off to a fantastic start with #ThalapathyVijay bringing in all his mass hero charm. Initial part of the film is Sema ragalai - #Verithanam
The star also showcases a very different style of performance as #Rayappan. His looks and mannerisms stand out.