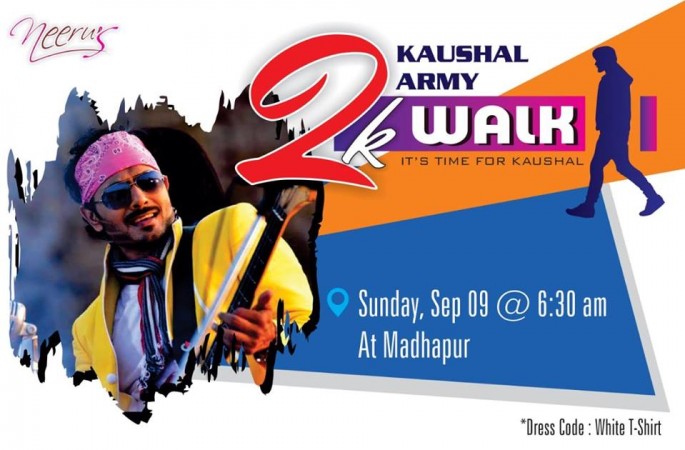 Bigg Boss Telugu 2 contestant Kaushal's fan club Kaushal Army put up a great show of their strength through 2K Walk in Hyderabad to prove that they are not paid group. The videos and photos of this show have also gone viral and #KaushalArmy2KWalk is currently trending on the social media.
Kaushal has amassed a huge number of fans across the world through his stint inside the Bigg Boss Telugu 2 house. His fans are often seen fighting and getting into heated arguments with the fans of other housemates. As the show nears its finale, it has turned violent and abusive, which made many think that Kaushal Army is a paid group and they are run by a PR company.
A group of fans from Hyderabad decided to hold 2K Walk to show the world that they love Kaushal and they are not paid for it. They extend unconditional support to the actor. They requested other Kaushal fans from the city to assemble at Madhapur at 6.30 am on Sunday.
Kranthi Chintu, the man behind this 2K Walk, tweeted, "2K Walk @ 6:30 am Tomorrow. Location: Kakatiya hills arch, Near maharaja chaat, madhapur road. Time : be there by 6:15 am Dress code : White t-shirt (Kaushal army stickers provided to you tomorrow). Refreshments will be provided. #bigbosstelugu2 #kaushalarmy #biggbosstelugu2"
Over 2,000 fans of Kaushal took part at the 2K Walk in the wee hours of Sunday. They had a silent march to show their support to the most popular contestant of Bigg Boss Telugu 2. Many took to social media to share their views on this road show and they also shared their videos and selfies, which stormed the social media and kept #KaushalArmy2kWalk trending on top. Here are some of their posts.
Kartik Dayanand @KartikDayanand
Signing off from the #KaushalArmy2KWalk. Got to witness the offline version of the online hysteria I see everyday. No one would've imagined that a show like #BiggBossTelugu2 would lead to something like this. Was very happy to see some of you folks in person. Cheers!!!
Mahesh‏ @SsMahi9
Every bigboss contestant has social their social team for promoting them in social media platforms for which they will pay for the teams. Even Kaushal has a team. For your kind information people team is not army.This is his army for u #kaushalArmy2kwalk
Harini‏ @IamHarini8
Participated in #KaushalArmy2KWalk today btwn hoots and beats for #Kaushal by #KaushalArmy .Support and Love for Kaushal from thousands of families is mind blowing #BigBoss2Telugu @NameisNani See this and judge the show. This will now shut the mouths of people who said Paid Army
Khairatabad Hero™‏ @SSMB_Holic
No Replacement for #Kaushal in Bigg Boss history.... Star Hero Level Craze... More than 2K people participated True Power of Being Ourselves #KaushalArmy #kaushalArmy2kwalk
Ganesh‏ @ganeshgun
True. They are already spinning one more story that the paid army came to walk for receiving their payments . Who has 1000+ paid army that too just on 1 part of Hyderabad!!!(many folks on Secunderabad side weren't able to attend the walk) #KaushalArmy2KWalk #BiggBossTelugu2
Sologuy‏ @sologuy099
What a pleasant sunday morning this is...all the videos, selfies, tweets, posts, images of #KaushalArmy2kWalk brought a great sense of satisfaction and pleasure. I wish I could've joined it. (I'm a Bangalorean) Kaushal FTW #BiggBossTelugu2
#KaushalArmy2KWalk https://t.co/nR9ubjGcPq

— Kartik Dayanand (@KartikDayanand) September 9, 2018
Every bigboss contestant has social their social team for promoting them in social media platforms for which they will pay for the teams. Even Kaushal has a team. For your kind information people team is not army.This is his army for u#kaushalArmy2kwalk pic.twitter.com/1O5X24Z215

— Mahesh (@SsMahi9) September 9, 2018
Is this family paid ??? They supported without expecting anything whole heartedly ...
This is called #kaushalArmy and this is wt we r

U should feel ashame of saying paid army...

#KaushalArmy #KaushalArmy2KWalk #BiggBoss2Telugu #BiggBossTelugu2 pic.twitter.com/hZviYn2WeT

— Kaushal_Army9?? (@kaushal_army9) September 9, 2018
#KaushalArmy2KWalk#KaushalArmy @kaushalmanda
U r really blessed with lot of love..
?‍???? To this mother making the baby too as part of KaushalArmy pic.twitter.com/dGXat0QUyb

— Madhu Ane Nenu (@madhugundlapane) September 9, 2018
No Replacement for #Kaushal in Bigg Boss history.... ???

Star Hero Level Craze... ???

More than 2K people participated ??

True Power of Being Ourselves ???#KaushalArmy #kaushalArmy2kwalk pic.twitter.com/XiRhoAhfAZ

— Khairatabad Hero™? (@SSMB_Holic) September 9, 2018
Craze ka baap ? #KaushalArmy2KWalk #KaushalArmy pic.twitter.com/iI1U2zbxno

— Madan Reddy (@Madan1242) September 9, 2018
Meeeee army walk
Maa frnd poyaadu#KaushalArmy2KWalk #KaushalArmy #BiggBossTelugu2 #bigboss2telugu pic.twitter.com/P21JW0zuuI

— abhi (@Breakthefreak_) September 9, 2018
Participated in #KaushalArmy2KWalk today btwn hoots and beats for #Kaushal by #KaushalArmy .Support and Love for Kaushal from thousands of families is mind blowing #BigBoss2Telugu @NameisNani See this and judge the show. This will now shut the mouths of people who said Paid Army pic.twitter.com/1kN0H9R4t6

— Harini (@IamHarini8) September 9, 2018
Bigboss చరిత్రలో tollywood, bollywood,kolywood, hollywood ee contestant ki abhimanulu ila 2k walk cheyaledu
?Thanks for all kaushalarmy and fans who involved in #KaushalArmy2KWalk pic.twitter.com/4GKU2ibKvK

— Ganesh (@Ganesh54396703) September 9, 2018
#BiggBossTelugu2 #KaushalArmy#KaushalArmy2KWalk @StarMaa@iAlokJain. Inkosari Paid ani evarina ante Fasak ????????#KaushalArmy pic.twitter.com/NoGc8kx3ZF

— Akhil Reddy (@akhillreddy) September 9, 2018