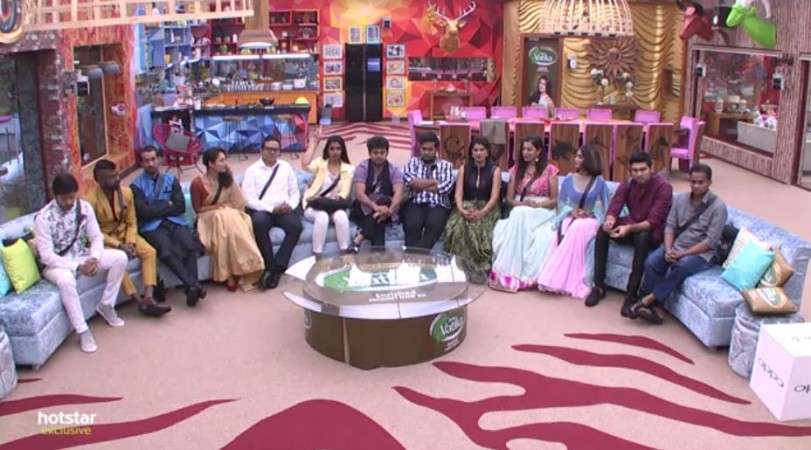 One of two housemates, likely Babu Gogineni and Tanish, might be evicted from Nani's Bigg Boss Telugu 2 on Sunday. Ganesh and Deepthi are expected to remain safe from eviction, according to IBTimes survey.
Big Boss held nomination process for elimination from Bigg Boss Telugu 2 in another unique way on August 6. He set up a tent in a garden area The condition was that the contestant who reaches the tent first would be nominated. Babu Gogineni, Tanish, Shyamala, Geetha Madhuri, Ganesh and Deepthi ended up being in the elimination list.
Nani addressed the housemates of Bigg Boss Telugu 2 in the Saturday episode and had a regular fun chat with them. At the end of the episode, the host announced that Shyamala and Geetha Madhuri are safe from the elimination and the other four nominated contestants are in danger zone and their fate will be decided on Sunday.
IBTimes India held a 5-day-long survey to predict the next elimination from Bigg Boss Telugu 2 and thousands of viewers have taken part in it by casting their votes. With few hours left for Nani to make an announcement about it, IBT India reveals our readers' predictions about the elimination today.
Shyamala and Geetha Madhuri, who were safe from elimination, received 12.16 and 10.84 percent of total number of votes and they were in the fifth and sixth option for elimination, respectively, as per IBTimes survey.
Anchor Deepthi and RJ Ganesh have got 13.80 and 13.67 percent of votes and they are the third and fourth choices for eviction respectively, as per IBTimes survey. If this prediction turns about to be true, then both of these housemates will be safe inside the house of Bigg Boss Telugu 2.
IBTimes poll shows that 32.13 percent of the viewers want to send Babu Gogineni out of the house of Bigg Boss Telugu 2. His vote share shows he is definitely in the danger zone. Actor Tanish, who has got 17.41 percent of the total votes, is also in danger zone, as he is the second option for elimination, as per our poll.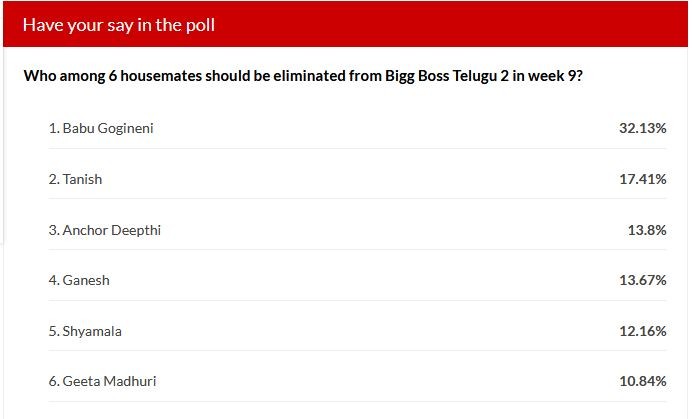 Babu Gogineni and Tanish suffer from short-temper, which might have made many viewers vote them out of the house of Bigg Boss Telugu 2. But this problem is a boon for them, as they are helping the makers of the house create more drama inside the house, which is needed to entertain the audience. It should be seen if the Bigg Boss will really send either of the two out of the house.