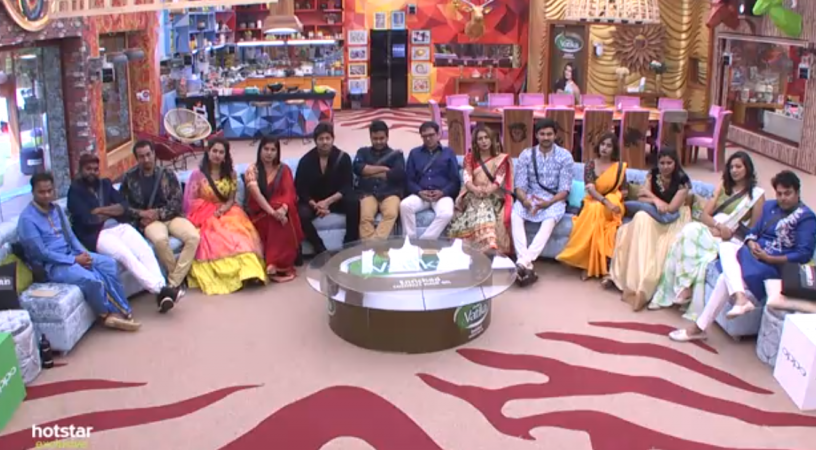 10.41 pm: Nani then announces that the contestants, who fall into the protected zone this week, are Geetha Madhuri and Shyamala. The episode ends with Nani's conclusion of his short story. Tanish, Babu Gogineni, Ganesh and Deepthi are in the eliminations.
10.35 pm: Nani makes an announcement regarding Bigg Boss Telugu 2's weekend eliminations. Kaushal asks Nani for his opinion regarding the game plan in Bigg Boss Telugu 2. Nani ensures to Kaushal that he need not worry about the game plans of the contestants.
10.28 pm: Amit and Roll Rida are mentioned as the ones who are playing the game with masks. Amit tries to explain himself. Nani asks the technical team to show the clips where Amit is seen playing a double game. "I want the contestants of Bigg Boss Telugu 2 housemates not to waver. Please do not contradict. Stick to one thing", Nani tells to the teammates.
10.25 pm: Nani mentions that Kaushal was the one who changed the whole task and lauds him for his opinion during the captaincy task. Kaushal explains why he had acted in contradiction. Kaushal is warned of losing his temper during tiffs.
10.20 pm: Babu Gogineni explains his own deeds, but Nani is not convinced. Nani concludes that a person like Babu Gogineni had made contradictory statements.
10.15 pm: Nani takes the call and talks to Geetha Madhuri about her getting influenced by her friends. Nani talks to Babu Gogineni next. Babu Gogineni is schooled for playing double games with Bigg Boss Telugu 2 contestants. The clippings are shown to him, and Nani asks Babu for an explanation.
10.10 pm: A caller is given a chance to talk to Nani and Bigg Boss Telugu 2. The caller says he wanted to talk to Geetha Madhuri. The caller advises Geetha Madhuri that she might be getting influenced by her friends and concludes.
10.00 pm: Deepthi is lauded by Nani for her superb performance in the tasks. Deepthi and Nani have a funny conversation before she explains her feelings about her losing the captaincy task. Nani asks Deepthi to give thoughts on how she would change things in the house if she was given a chance to become a captain.
9.58 pm: Nani talks to Ganesh and tries to convey that he needs to be more active. Samrat is appreciated by Nani for his constant appearance in Bigg Boss Telugu 2 show. Nani talks to Shyamala and she seems to be very energetic. Nani asks her for an explanation about the coins task.
9.55 pm: Nani talks to Deepthi Sunaina next. Deepthi Sunaina seems to be happy with the compliments from Pooja Ramachandran. Nani asks Deepti Sunaina why she had agreed to stand as the judge in the previous captaincy task. She tries to explain, but Nani asks her to be careful hereafter.
9.50 pm: Nani then shifts to the wildcard contestant Nuthan Naidu. Nani makes witty comments on his way of conversation with the other contestants in Bigg Boss Telugu 2. Nani asks Nutan Naidu to explain his game strategy.
9.38 pm: Nani tries to make Tanish realize that he was being overconfident and he explains that Tanish's stance had wavered for a number of times during the task. Tanish argues with Nani. Nani schools Tanish for playing a safe game and changing his decisions every now and then.
9.35 pm: Pooja Ramachandran mentions that Deepthi Sunaina is the best in her captaincy, while Amit is the worst. She gives her own reasons for her decisions. Nani warns Pooja to be careful about the way she conveys things. Nani shifts his focus on Tanish again. Nani questions Tanish how he had become the best player. Nani indicates that Tanish had not played the most of the tasks. Tanish tries to explain himself.
9.27 pm: Nani talks to the housemates of Bigg Boss Telugu 2. Nani has an interaction with the contestants who are in the weekend's nominations. Nani mentions that Babu Gogineni that he has to take the tasks seriously. He also warns Shyamala to be more active and take the nominations seriously. Tanish is warned of his irresponsible way of playing the game. Nani is seen talking to Geeta Madhuri about the same. Nani asks the Bigg Boss Telugu 2 contestants about Pooja Ramachandran's captaincy. Kaushal mentions that he was not happy with her captaincy.
9.20 pm: Deepti and Nutan Naidu are seen having a conversation. Nutan Naidu warns Deepti not annoy him. Deepti gets angry and leaves.
Bigg Boss Telugu 2 has become one of the most watched shows on Telugu television currently. With Nani as the host, the show has been a source of entertainment with one or the other interesting element coming up each week.
Bigg Boss Telugu 2 contestants Babu Gogineni, Tanish, Geeta Madhuri, Shyamala, Ganesh, Deepti in the nominations for the weekend eliminations, the show is going to turn out to be an interesting one. Catch up the live updates of Bigg Boss Telugu 2.