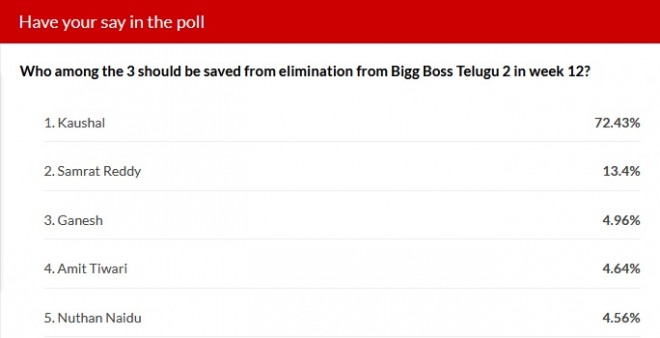 Amit Tiwari or Nuthan Naidu will be eliminated from Nani's reality TV show Bigg Boss Telugu 2 and Kaushal and Samrat Reddy remain safe from the eviction, as per the poll survey conducted by International Business Times India.
Choosing another unique way, Big Boss asked each housemate to select three other inmates and sit in the activity area. They had to nominate two inmates for elimination and save one from eviction. They had to give their reasons for the actions. Five contestants like Kaushal, Samrat Reddy, Amit Tiwari, Ganesh and Nuthan Naidu ended up being in the nomination list.
Host Nani addressed housemates in Saturday episode and had his regular interaction with them. At the end of the episode, he announced that Kaushal is safe from elimination and Ganesh has been evicted from the show. He revealed that there is a double elimination this weekend and one of Samrat Reddy, Amit Tiwari and Nuthan Naidu will be shown doors on Sunday.
International Business Times India held a survey to predict the elimination and thousands of fans took part in the poll, by casting their votes. In his survey, 72.43 per cent viewers opted to save Kaushal from the elimination from Bigg Boss Telugu 2 this weekend. He has already been made safe inside the house.
In our poll, 13.4 per cent audience cast their votes to save Samrat Reddy and he is likely to be saved from the eviction from Bigg Boss Telugu 2. Three other nominated contestants have got less than five per cent votes each. Ganesh (4.96 per cent) has already been shown doors on Saturday. Now, Amit Tiwari (4.64 per cent) and Nuthan Naidu (4.56 per cent).
However, Nuthan Naidu was eliminated from Bigg Boss Telugu 2, but he was brought back on the show as a wildcard entrant. He walked out of the house for the second time after he injured his should during a task. All the housemates were upset with him when he came back in the house for the second time.