10.45 pm: Nani announces that Kaushal is safe from the elimination. Ganesh is eliminated from Bigg Boss Telugu 2 house. The results of the other nominated housemates will be announced tomorrow. Another person will be out from Bigg Boss Telugu 2 from among Samrat, Amit Tiwari, and Nutan Naidu.
10.32 pm: A random viewer calls to talk to Roll Rida. Roll Rida is lauded for his rap song Arupu.
He is advised to listen to Nani and concentrate on the game.
10.25 pm: Geetha Madhuri is lauded for her performance in the murder task. Geetha Madhuri is blamed for quarreling on the show to become famous. Geetha Madhuri is seen explaining herself. Though Nani asks the questions randomly, Geetha beats around the bush and targets Kaushal in all the ways.
10.13 pm: Kaushal is blamed for his selfishness and campaigning. Kaushal explains that he is not trying to gain sympathy. But, Tanish and Geetha Madhuri don't agree. Kaushal is also blamed for his attitude. He explains himself. Amit is seen telling that he does thank others but he finds no reality in that. Kaushal has a clash with Amit's allegations about him being fake.
10.05 pm: Deepthi Nallamothu is blamed of her drama in the show. Deepthi is seen narrating a long essay in her defense. It is a bit confusing to understand her long statements.
10.00 pm: Amit Tiwari is blamed for his boring presence. Amit explains that he is like that in the real life too. Nani questions Amit Tiwari if it was important to divert a serious matter or to take a stand. Amit defends himselves by saying he tries to minimize the melodrama.
9.56 pm: Nutan Naidu is seen questioned about him being alert about Kaushal army in Bigg boss Telugu 2 house. Nutan is also questioned about him influencing the housemates. Nutan Naidu is seen defending himself. Nani is seen questioning him if he had leaked any information regarding the situation outside the house. Nutan Naidu explains that he had conveyed the messages from the families of Bigg Boss housemates.
9.45 pm: Nani questions Tanish about the captaincy task and asks an explanation why he gave up the task. Tanish tries to explain that he was frustrated to see Nutan Naidu's cycle task. Nani is seen getting serious about Tanish's frustration and blaming the Bigg Boss game. Tanish is seen explaining about the same. The argument is prolonged between Nani and Tanish. Tanish is questioned if he thinks that Bigg Boss makers are being partial.
9.33 pm: Samrat is the next person who is questioned. The person who has written against Samrat questions about Samrat's going out on a court work. Nani is seen explaining that it was a condition where he had to go. So, he clarifies it off. Samrat defends himself on being blamed that he could not take a stand. Bigg Boss 2 Funny Memes are here.
9.25 pm: Nani starts reading out the messages on the cards. He starts with Roll Rida.
Roll Rida is blamed that he doesn't keep up his words. Roll justifies that there is a possibility of changing the mind. He is then blamed that he has been acting on the show. Roll clarifies that he is being himself on the show. Ganesh is questioned about his detective task and he is seen defending himself. Ganesh is blamed that he is playing a safe game on Bigg Boss Telugu 2. Ganesh defends himself.
9.15 pm: Nani starts his conversation with the housemates. He mentions that he would not question them any longer. Nani asks the housemates to write down all the allegations on the fellow housemates on the cards. Nani would then collect those complaint cards and ask an explanation from each housemate.
9.10 pm: Bigg Boss announces that the members of the Bigg Boss Telugu 2 house that they could share the Goodnight bigg bomb protection card with their favorite member in the show, which will protect them from the Big bomb.Tanish gives his protection to Samrat, while Amit shares his protection card with Roll Rida. Ganesh gives his Goodnight Big Bomb protection card to Deepthi Nallamothu.
Kaushal shares his Bigg bomb protection card with Nutan Naidu. Samrat shares the protection card with Tanish. Geetha Madhuri gives her protection card to Shyamala. Shyamala gives her protection card to Geetha Madhuri. Roll Rida shares the protection card with Amit Tiwari. Deepthi Nallamothu gives her protection card with Nutan Naidu. Nutan Naidu gives his protection card to Kaushal.
9.05 pm: Geetha Madhuri is seen breaking the rules in Bigg Boss Telugu 2 house. Kaushal questions Geetha Madhuri regarding the same and Geetha Madhuri starts sobbing.
9.00 pm: Bigg Boss Telugu 2 starts on a high note with a dance performance by host Nani as usual. Nani is seen with double energy dancing for the mass beat.
Nani announces that it is going to be the double eviction this time. He makes it clear that two housemates are to leave the house tomorrow.
Nani narrates a short story to the audience relating it to the situation in Bigg Boss Telugu 2 house.
This weekend's nominations include -- Kaushal, Samrat, Ganesh, Amit Tiwari, and Nutan Naidu -- in the list. Two contestants are set to leave the Bigg Boss Telugu 2 house as Nani had announced double eliminations this week.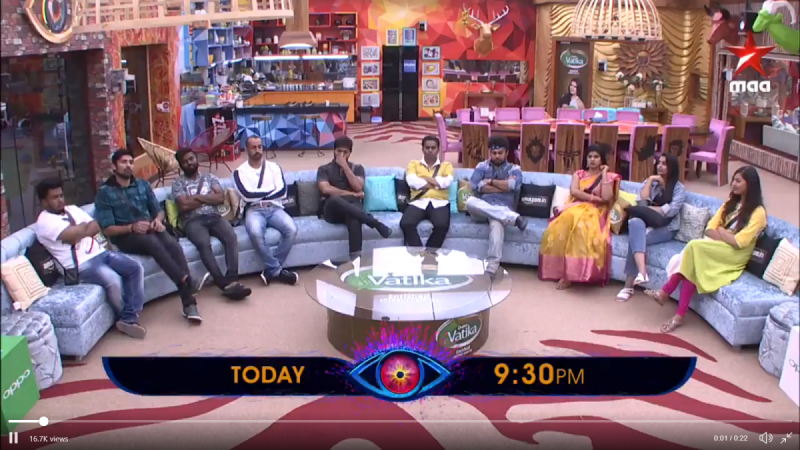 Bigg Boss has become one of the top-rated television shows lately. With the growing craze around the show, the unexpected twists and turns have successfully kept the audience engaged.
There are huge speculations over the eliminations this week. The International Business Times, India poll indicated that Nutan Naidu and Amit Tiwari have the least votes to be saved from the eliminations this week.
There are also chances that one of Amit Tiwari, Ganesh, or Nutan Naidu might be eliminated in the double eviction this time.
Kaushal must wait and see how the nominations will have an impact on the other contestants in Bigg Boss Telugu 2 house.