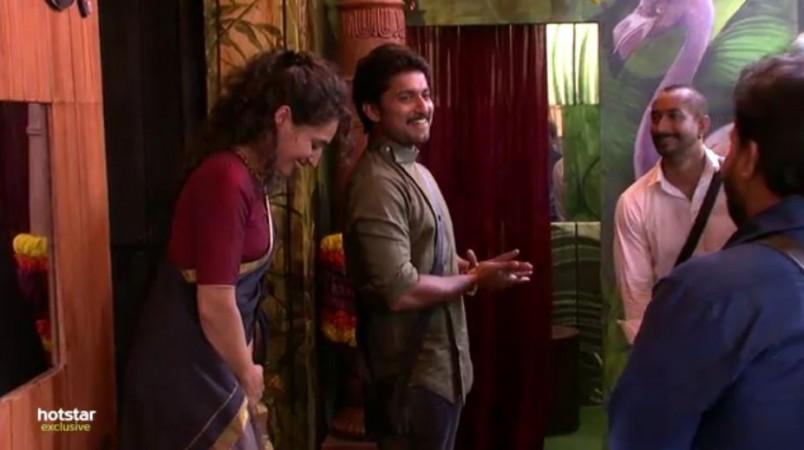 Actress Pooja Ramachandran was evicted from Nani's reality TV show Bigg Boss Telugu 2 on Sunday, while Kaushal, Tanish and Deepthi Nallamothu remained safe from the elimination.
Here are the Bigg Boss Telugu 2 elimination live updates:
10.31 pm: Pooja Ramachandran is seen getting emotional after watching the video of her journey on Bigg Boss Telugu 2. Pooja drops the big bomb on Geetha Madhuri. Geetha Madhuri is to stay in the jail for the rest of the week. Nani takes Pooja Ramachandran out of Bigg Boss Telugu 2 house along with him. Everyone bid a goodbye to Pooja.
10.26 pm: It's nominations time. Nani requests the nominated contestants to stand on one side. Nani announces that Kaushal, Tanish, and Deepthi Nallamothu are announced as safe contestants escaping the eliminations. Pooja Ramachandran is eliminated from Bigg Boss Telugu 2.
10.14 pm: Nani terms Pooja Ramachandran as one of the strongest persons in Bigg Boss Telugu 2. "It is because of Pooja that the other housemates have been so energetic", Nani told to Pooja Ramachandran. Nani terms Shyamala as an innocent lady, who came with a fresh energy after her comeback on the show. Ganesh is given a compliment that he has been a good contestant, but he needs an external push always. Nani also talks in a witty way about his punch dialogues.
10.18 pm: Kaushal is termed as the most consistent player in Bigg Boss Telugu 2 house by Nani. Nani also terms Kaushal as a genuine and serious player. Nani hints that Kaushal is one of the most loved contestants by the audience.
10.10 pm: Nani expresses that Samrat is a kind of person, who cannot hurt anyone. Tanish is termed as a preacher who doesn't follow. Deepthi Nallamothu is given a compliment that she is like a familiar member in Bigg Boss Telugu 2 house. Nani expresses that Geetha Madhuri had earned much respect after she stood up for Kaushal during one of the crucial times on the show.
10.05 pm: Nani tries to explain things about his career, referring to his journey until he grabbed the offer to host Bigg Boss Telugu 2. Nani starts talking to each member personally. Nani talks about Nutan Naidu and conveys that his journey on Bigg Boss Telugu 2 show has been a mysterious one. Roll Rida is termed as an on-off contestant by Nani. He says Roll has been a sweetheart to all the housemates. Amit is termed as an entirely another person, and Nani even conveys that his behaviour has been a confusing one.
10.00 pm: Nani plays the teaser of his upcoming multistarrer movie Devadas. Bigg Boss Telugu 2 contestants are seen cheering up on him and wish the Devadas team all the very best. Nani requests the housemates to assemble to discuss regarding the game now.
9.55 pm: Nani has a conversation with the housemates. Nani promises to the housemates that they would have a huge party after the Bigg Boss Telugu 2 show gets completed. "Someone please take the initiative and make arrangements for the party. No egos, no other issues. We shall party hard that day", Nani tells the housemates. Nani has a heartful conversation with them, sharing a few things about his mother and family. He assures that the contestants would get a chance to watch the special show of his upcoming movie 'Devadas' starring Nagarjuna.
9.50 pm: Nani brings food to the Bigg Boss Telugu 2 housemates. He serves the food to all the housemates and then shares the food with them.
9.45 pm: Nani continues showing the featured memes to the housemates. The memes are just so entertaining and funny.
Geetha Madhuri, Samrat, Tanish, Roll Rida, Nutan Naidu and all the others are seen enjoying the memes.
9.30 pm: Nani tells that the teammates are to be shown some exclusive memes made by the audience.
The housemates are seen laughing out aloud watching those memes. Samrat's memes appeared as rib-tickling jokes to the housemates.
Amit is seen enjoying the memes created on him. Deepti claps watching at the funny video created on her.
9.22 pm: Bigg Boss Telugu 2 housemates are sent goodies from their loved ones. Deepthi Nallamothu, Shyamala, Geetha Madhuri receive gifts from their siblings and loved ones as the Rakshabandhan gifts.
9.15 pm: The Rakshabandhan celebrations are still on in Bigg Boss Telugu 2 and the teammates are seen enjoying.
Nani then reads out the personalized messages the housemates have got from their siblings in Rakshabandhan context.
Samrat, Roll Rida, Kaushal, Tanish, Amit and the other teammates get messages from their loved ones.
9.10 pm: The women in Bigg Boss Telugu 2 house tie Rakhis to Nani and Nani presents them a few gifts in return.
Nani is seen sharing some special things, regarding his relationship with his sister. All the teammates are seen very happy with Nani's presence.
Deepthi Nallamothu is given back her captaincy as Nani requests in her support.
9:00 pm: Bigg Boss Telugu 2 host Nani enters the Bigg Boss Telugu 2 house to celebrate Rakshabandhan with the housemates. This is the first time Nani has entered the house.
Bigg Boss Telugu 2 housemates are seen greeting him with love.
Before kick-starting the elimination process, host Nani will enter the house of Bigg Boss Telugu 2 to celebrate Raksha Bandhan. All the female contestants will tie rakhi to the actor-turned-host.
Star Maa released a promo of the Sunday episode of Bigg Boss Telugu 2 and wrote, "@NameisNani celebrates #RakshaBandhan with housemates..Navvulu,Anandaalatho illu kalakalaladipothundi ❤️ #HappyRakshaBandhan #BiggBossTelugu2 Today at 9 PM on @StarMaa"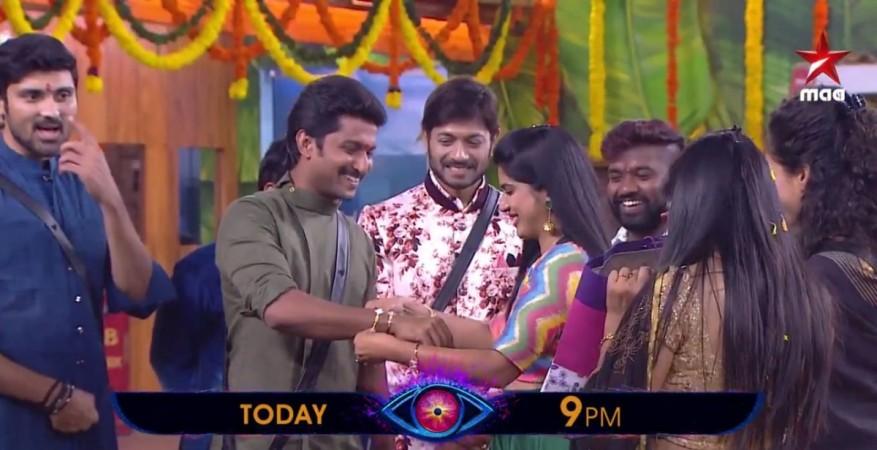 As the promo of Bigg Boss Telugu 2 opens, host Nani is seen entering the house with some gifts and sweets in his hands. All the housemates are thrilled to see him inside the house. Amit Tiwari, Tanish and others hug him and give him a warm welcome. The host is seen revealing that he has entered the house to celebrate Raksha Bandhan.
Later, Deepthi and Shyamala are seen tying rakhi to Nani's wrist, while he shares sweets and wishes with them. The host is seen having a special screening of some memes about the contestant that are doing rounds on the social media. The promo ends on a happy note as all the housemates enjoy this screening with a lot of loud cheer.
Deepthi Nallamothu, Pooja Ramachandran, Kaushal and Tanish were nominated for eviction from Bigg Boss Telugu 2 in the 11th week. Nani addressed the housemates on Saturday, but he did not make anyone safe. He is set to send one of four nominated housemates out of the house.
Stay locked to this page as we bring you the live updates of Bigg Boss Telugu 2 elimination from 9 pm.