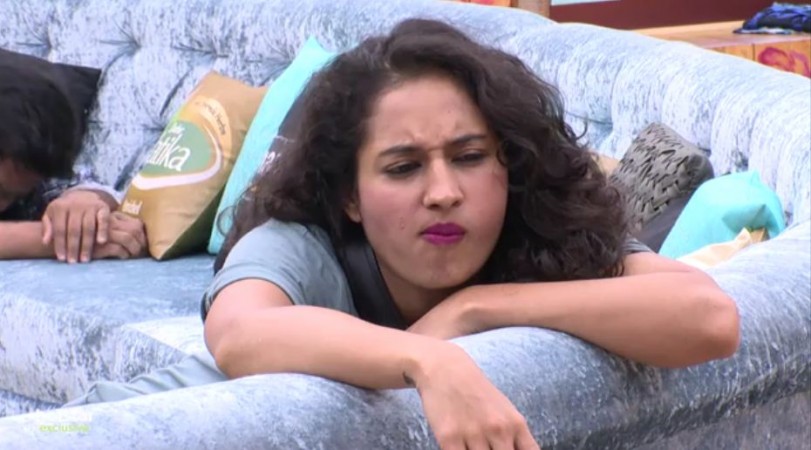 The details of Bigg Boss Telugu 2 elimination have once again been leaked by some miscreants. And the leaked pictures show that Pooja Ramachandran has been evicted from Nani's show in the 11th week.
Deepthi Nallamothu, Pooja Ramachandran, Kaushal and Tanish have been nominated for the elimination from Bigg Boss Telugu 2. Everyone is curious to know about the contestants who will be shown the doors. But on Saturday, Nani decided to keep their curiosity and housemates' tension growing up as he did not announce the names of inmates who are in the protected zone.
Nani is set to announce the name of the contestant who will be eliminated from Bigg Boss Telugu 2 in the 11th week. Hours before his announcement, some photos leaked on the social media shows Pooja Ramachandran walking out of the house and Amit Tiwari is seen carrying her suitcase.
A viewer named Pathan Usif with Twitter handle posted the pictures and wrote, "#Biggbosstelugu2 #KaushalArmy #PoojaRamachandran back to Source found it in twitter Randomly while searching Malli adakakandi source ani Once again pics leaked If not great photoshop by someone"
This is not the first time that the details of Bigg Boss Telugu 2 elimination have leaked on the internet before the official announcement. Some miscreants had revealed the details of Babu Gogineni and Deepthi Sunaina's eviction and they have turned out to be true. It should be seen whether the rumours about Pooja Ramachandran will also be turn out to be true.
Pooja Ramachandran had entered the house of Bigg Boss Telugu 2 as a wildcard contestant on day 43. She has been very active, chilled out and straightforward, which have made her one of the strong contestants. Her stint on the show has definitely amassed her many fans and taken her popularity to the next level.