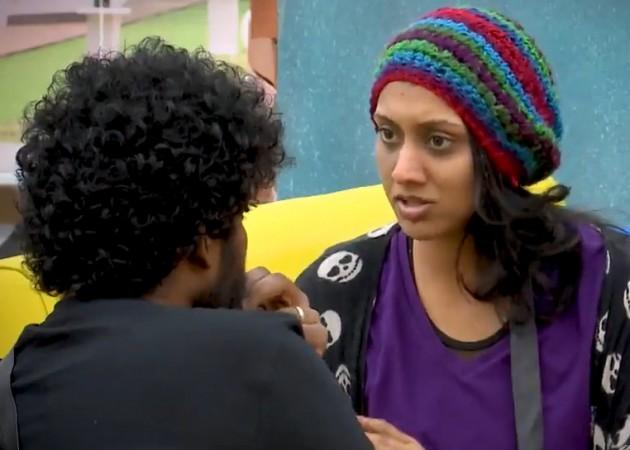 If Bigg Boss show is about making smart moves and taking right decisions at the right time, Vaishnavi seems to be just in the right spot. A week into the show, the RJ has shown her capabilities of influencing people with her views.
Vaishnavi, who shared a good rapport with Mumtaz, surprisingly pitched the inmates against her along with Mamathi Chari. She was seen ranting against the 37-year old actress, whose performance in a task was not up to the mark.
Mumtaz and Mamathi Chari represented female inmates in a task where they were given money to buy vegetables and groceries. On the men's side, Daniel and Sendrayan were assigned to purchase the items required for cooking for a day.
While Daniel and Sendrayan gave their best to the task, Mumtaz and Mamathi, apparently, were not serious about the task and they failed to purchase necessary items like salt.
Using this as an opportunity, Vaishnavi targeted them and shared her unhappiness with other inmates. It apparently had great influence on the contestants, as most of them took their names for the nomination this week.
As a result, Mumtaz, Mamathi along with Ponnambalam and Ananth Vaidyanathan are in the danger zone in Bigg Boss Tamil 2 this week.
Vaishnavi is now seen as a smart and cunning contestant by the audience. Many netizens have compared her to Julie from the first season, while some are seeing Gayathi in her.
Mumtaz is undoubtedly one of the strongest contenders in the show and Vaishnavi might be seeing her as a threat if she wants to win this season.
Here, we bring you the viewers' comments on the RJ.
Shiv: Ughh.. #Vaishnavi strtd to unleash her character by playing with emotions & ego in the house to devise split and rule strategy, not sure how long will she survive? Her intentions are contagious, either she'll be pushed out or left isolated!
@vijaytelevision #பிக்பாஸ் - #BiggBossTamil #VivoBiggBoss I love #Rhytvika & #Mumtaz for choosing #Vaishnavi as an elimination candidate for right reasons..opioniated, foul mouth, self exaggeration, obvious witch. The day when co-contestants realize it, she will be cornered.
#BiggBossTamil
The skin is peeling off, you can't pretend 24/7, as and when the situation demands your real character pops out. From day 1, #Vaishnavi seems sticks to the strategy, rumor mill, unreal, not sure why @vijaytelevision Opts for such an irritating profile
Bigboss_observer: #vaishnavi is already seen as kol mooti. Her real color will come out even more once her target of #mamathi and #mumtaz walks out. If she will turn to other strong contestants and back bite! #biggbosstamil2
guitar guy: #vaishnavi is next #Gayathri she is poisoning against #Mumtaz so that's why every housemates nominated #Mumtaz
Sanjay: #Vaishnavi smothering others with her opinions. Not letting others even have opinion of their own. #BiggBossTamil
WARLAND: FOREVER: Whats wrong in #Mumthaz she is talking sense..and something good...i think now the real faces of all other contestants are coming out..i Knew this #vaishnavi is poison as #janani...we love you #mumthaz you are real and true..keep it up...
Love is god: #vaishnavi is sooooooooo irritating... trying to blow a small issue into a big one always #BiggBossTamil2.