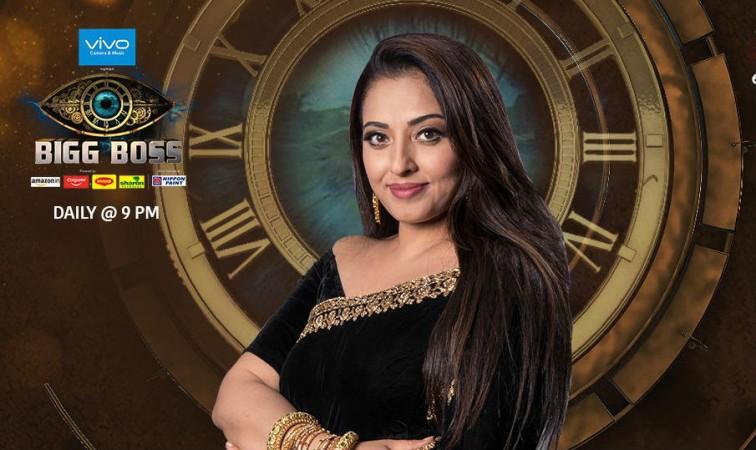 The second season of Bigg Boss Tamil (Bigg Boss Tail 2) has been launched on Sunday, June 17. The show was kick-started at sharp 7 pm by Kamal Haasan. The host begun the show by addressing a small gathering outside the venue and stated that he gains strength to be himself in the show from the viewers' support.
Bigg Boss Tamil 2: Complete profiles with photos of 16 contestants
Yashika Aannand, the 18-year old who shot to fame with Iruttu Arayil Murattu Kuthu, was the first contestant to enter the house. She was followed by veteran actor Ponnambalam, Mahat Raghavendra, Daniel Annie Pope, RJ Vaishnavi, Janani Iyer, Ananth Vaidyanathan, NSK Ramya, Sendrayan, Riythvika, Mumtaj, Thadi Balaji, Mamathi Chari, Nithya, Shariq Hassan and Aishwarya Dutta.
Interestingly, Oviya, who won millions of fans with her simplicity and honesty in the first season of Bigg Boss Tamil, has entered the house as a guest. But the inmates are not aware of the truth.
However, the 100-day journey of the 16 contestants have started and luckily there will be no elimination in the first week. Once again, the contestants are not aware of the fact and the nomination process, like usual, is expected to take place in Monday's episode. [Crawl down for the photos of the contestants]
Live Updates:
11.07 pm: Oviya, who won the hearts of the million in the first season, has entered the house as a guest, but the contestants are not aware of it.
10.59 pm: Kamal Haasan announces that there is no elimination in the first week.
10.53 pm: Aishwarya Dutta made his acting debut in Tamizhuku En Ondrai Azhuthavum in 2015. She then worked in Paayum Puli, Aruthapathi and a few other films.
10.49 pm: Aishwarya Dutta is the contestant number 16.
10.41 pm: Shariq is the son of celebrity couple – Riyaz Khan and Uma. The budding actor is the son of actress Kamala Kamesh. He started his career in GV Prakash's Pencil.
10.35 pm: Actor Shariq Hassan is the contestant number 15.
10.20 pm: Nithya is the contestant number 14. She is Thadi Balaji's estranged wife. They are separated over personal issues.
10.05 pm: Television actor Mamathi Chari enters the house as contestant number 13.
9.51 pm: Thadi Balaji enters the house as the contestant number 12.
9.39 pm: Mumtaj is a popular actress, who has acted in over 30 movies in different languages.
9.34 pm: Mumtaj is the contestant number 11 to enter Kamal Haasan show.
9.32 pm: Riythvika made her acting debut with Bala's critically-acclaimed film Paradesi. In span of five years, she has worked in over 10 movies that include Rajinikanth's Kabali and Vikram's Iru Mugan.
9.23 pm: Riythvika enters the house as the 10th contestant. She is a supporting artiste.
9.13 pm: Sendrayan is the contestant number nine. He started his career in 2007 in Polladhavan. He was recently seen in Udhayanidhi Stalin's Nimir.
8.56 pm: Singer NSK Ramya is the eight contestant to enter the house.
8.47 pm: Musician Ananth Vaidyanathan is the seventh contestant to enter the house. He is a singer and plays the role of mentor to aspiring singers in Airtel Super Singer on Vijay TV.
8.38 pm: Janani Iyer claims that she had dream to stand next to Kamal Haasan and it has come true today.
8.27 pm: Janani Iyer is the sixth contestant to enter Kamal Haasan's show.
8.20 pm: RJ Vaishnavi is the contestant number 5. In Kamal Haasan's words, she sounds mature.
8.04 pm: Daniel Annie Pope is the fourth contestant. He has worked in handful of movies and known for his miming skills.
8.02 pm: Mahat Raghavendra got interested in films due to Simbu, who cast him in in 2006 in Vallavan. He has worked in close to 15 movies in his career so far. Notably, he was part of Ajith's Mankatha, Vijay's Jilla, Karthi's Biriyani, etc.
7.53 pm: "It is honour to be part of your show," Mahat Raghavendra tells Kamal. He says that it got interest in films due to Simbu and hails Ulayanayagan as his inspiration.
7.48 pm: Mahat Raghavendra is the third contestant and take the stage with a performance.
7.36 pm: Ponnambalam is the second contestant in Bigg Boss Tamil. He enters the house and interacts with Yashika.
7.23 pm: 18-year old Yashika makes her enter the house.
7.22 pm: Yashika Aannand won hearts with her recently released Tamil movie Iruttu Arayil Murattu Kuthu. Her bold comments have won fan following among fans
7.17 pm: Yashika Aannand is the first contestant in Bigg Boss Tamil.
7.11 pm: Ulaganayagan enters the house. He is called for confession room before leaving the house.
7.10 pm: "My strength comes from your support," Kamal Haasan opening statement.
7.06 pm: Kamal Haasan takes the stage with a bang.
7.04 pm: Kamal Haasan comes out of caravan and address his fans.
The contestants will be locked inside the house for 100 days in a specially erected set at the EVP Film City and every week one or more participants will be shown the door based on the viewers' vote.
Going by the rumours, Janani Iyer, Mahat Raghavendra, Powerstar Srinivasan, Yashika Aannand, Ananth Vaidyanathan, Thaadi Balaji and Nithya Thaadi Balaji, Daniel Anne Pope, Ponnambalam, Aishwarya Dutta, RJ Mamathi Chari, Kavin and Mumtaj are the rumoured contestants who are taking part in the second season of Bigg Boss Tamil.
The show will be aired between 9 and 10 pm on weekdays.
The first season of Bigg Boss Tamil was a hit among the audience. As many as 15 contestants had entered the house with the hopes of winning a trophy along with a cash prize. Actor Arav won the reality show, while Snehan ended up as the runner-up.
However, it was Oviya, who won the viewers' hearts before she walked out due to mental health issues.
The show had its own share of controversies. From Gayathi's casteist comment on Julie aka Juliana to Kamal Haasan's digs at politicians, the show had hit headlines for wrong reasons on several occasions.
With Kamal Haasan now turning into an active politician by floating his party 'Makkal Needhi Maiam' and aiming to contest next elections, one can expect loads of political comments on the reality show.