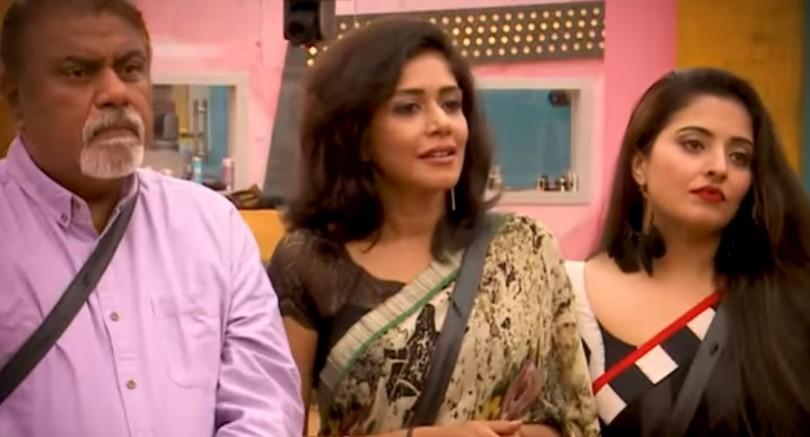 Mamathi Chari is the first contestant to be eliminated from Bigg Boss Tamil season 2. She got lesser votes than Ponnambalam, Ananth Vaidyanathan and Ponnambalam, who was announced safe on Saturday's episode itself.
The multifaceted TV actress had not done much to neither win the viewers' hearts nor the love of the inmates. The only person with whom she shared good rapport was with Mumtaz.
Maybe, her proximity with Mumtaz overshadowed her original character. However, she had managed to earn some respect from the netizens when she had spoken positive things about Nithya, who has been cornered by almost all the members of the house.
Apparently, Mamtathi's comment on being a slave to her master in a task had not gone well with the viewers. With her elimination, now there are 15 contestants - Yashika Aannand, Ponnambalam, Mahat Raghavendra, Daniel Anne Pope, Vaishnavi, Janani Iyer, Ananth Vaidyanathan, Ramya NSK, Sendrayan, Riythvika, Mumtaz, Thadi Balaji, Nithya Balaji, Shariq Hassan and Aishwarya Dutta - are in the Vijay TV's show.
Interestingly, netizens are not happy with Mamathi's elimination. They are of the views that her stay in the house might have provided some entertainment to the audience. Here, we bring you selected-few comments made by the fans:
Indhu V: Mamthi is too intelligent and cultured to be in BB house. Only the flirt, pervert, idiot, moron, conceited and abusive people will survive in BB because of stupid public vote and inmate nomination.
#BiggBossTamil #BiggBossTamil2 #mamathichari
Mumtaz_Navy: Tamil Nadu people are really stupid and making votes. Seriously this is why their country is corrupted with useless politicians. I really feel sorry for Mamathi. She was one of the best contestant in #BiggBossTamil2. Hope to see her again in wild card round
kaviya: #Biggbosstamil why mamati.. ananth poirukalam.. show inum intrst ah irunthrkum.. if mamathi is inside the house instead of ananth #wrongdecision she was gud actually
Vidya: #Mamathi is the perfect example of how often time when you dedicate yourself to make everyone feel loved and appreciated, people forget to love you. Taught me a very important lesson about life today. Love you always#MamathiChari #BiggBossTamil #BiggBossTamil2 @vijaytelevision
Vidhya Victor: Actually Anand sir should be eliminated bcz he didn't contribute much. Mamathi is brainy she has the ability to twist or to change the game.
Too late we took a wrong decision in voting ❌
Ƭяα∂ιтισηαℓ Ƥяιηcєѕѕ: Actually Mamathi doesn't deserve eviction. But she is out of the house coz she handles any stressful situation calmly and doesn't create controversies. Only dramaqueens, crybabies, flirts and egoists survive on BigBoss coz they provide entertainment
VSOP: She is in media and know how to speak and attract audience. She poured Honey drop speech and some Brainless people melted on that. Really brain less people now shouting for #Mamathi
People predicted Ananth's elimination
People had expected Ananth Vaidyanathan to be evicted from the show, but to everybody's surprise Mamathi Chari has been shown the door. In fact, Ananth himself was not confident of his stay in the house.
After announcing that Ananth Vaidyanathan was safe, Kamal Haasan told Ananth that he has got abundance of love and support from the public and he should fight back to stay in the game.
"Do not accept the defeat easily," Kamal Haasan told Ananth.
Earlier Story:
After Ponnambalam was saved by Kamal Haasan on Saturday's episode (June 30) of Bigg Boss Tamil 2, Mumtaz, Mamathi Chari and Ananth Vaidyanathan are in the danger zone. Indeed, one of the three will be shown the door on Sunday.
This is the first elimination in this season as there was no eviction in its first week. Based on the votes of the inmates, Mumtaz, Mamathi Chari, Ponnambalam and Ananth Vaidyanathan were pushed to the danger zone.
Netizens predicted either Ponnambalam or Ananth would be out of Bigg Boss Tamil 2 this week. With the former being saved, there are high chances of the latter being evicted from the show. By his own admission, he is happy to leave the house.
Ananth Vaidyanathan is struggling to bond with the inmates who are much younger than him. Moreover, he could not give his 100 percent to the tasks due to health issues.
However, a section of the audience is of the opinion that Ananth might be saved this week and Mamathi Achari would be shown the door.
Nonetheless, there is a strong belief among the audience that Mumtaz would not be eliminated considering her fan following. In fact, she is a strong contender to win the season.