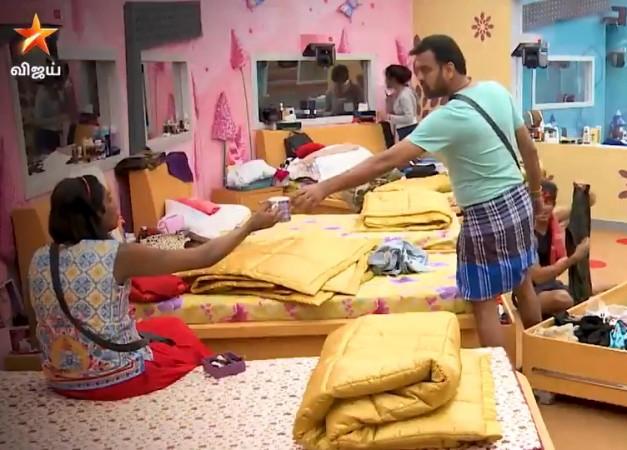 Thadi Balaji and Nithya's relationship is deteriorating day by day in the Bigg Boss Tamil house. At every given opportunity, the former is abusing the latter, who, apparently, is not getting any support from the inmates in the Kamal Haasan-hosted show.
On Thursday's episode, Balaji is seen repeatedly abusing Nithya using foul language. The Bigg Boss surprised the inmates by reversing the roles in the master-servant task.
The women were servants over the last few days and the roles were reversed in the latest episode. The men, who were giving orders, were on the receiving end.
However, Balaji and Daniel were not happy to take orders from their female counterparts.
Especially, Balaji lost his cool a few times and abused his estranged wife Nithya in front of all the inmates. Unfortunately, none of the inmates extended moral support to her and suggested her to "ignore" the issues and her hubby instead of having a verbal duel with him.
However, Mumtaz consoled her towards the end of the day when Nithya was seen weeping and told her that it appeared like everybody was targeting her. But the former asked her not to worry about what others say and said, "If you think you are right then you should not bother even if it means the whole world says you are wrong,"
What do fans say?
The fans are not happy to see the male chauvinism in Bigg Boss Tamil 2 show and wondering how Balaji would treat Nithya in the outside world when he has hurl abuses in a reality show. Find selected few comments posted by Twitterati:
Helena Julie: #BiggBossTamil BB is a miniature version of the outside world.Not surprised seeing so many male chauvinists inside BB..reminds me of my childhood&also all the kids who had an abusive father.Waiting for KamalSir to teach them a lesson this weekend @ikamalhaasan @sripriya
Abusing nithya in national television... Not cool Balaji... And it's so painful seeing so many girls in Twitter telling wat men did is right...#BiggBossTamil @ikamalhaasan @sripriya
Justmythoughts: Guys our biggest failure is forgetfulness. Please NEVER FORGET about MAHAT, BALAJI, DANNY.
They deserve to be treated badly and that should be a lesson to all the men that mistreat women. #BiggBossTamil2 #BiggBossTamil #Mumtaz #KamalHaasan
blue: I know she wont get as much support from public as oviyaa because she's not as goodlooking. I hope ppl look beyond colour & looks #savenithya #biggbosstamil #biggbosstamil2
Nithya got nominated unfairly. She's not getting enough support from teammates. Poor girl, i feel sorry for her #biggbosstamil #biggbosstamil2 #savenithya #biggboss2tamil
San Thila: #BiggBossTamil Balaji too much using bad words... Last season we all boikot gayatiri for used bad words (hair) in this season Balaji...bigg boss warning balaji
dpd: @ikamalhaasan @vijaytelevision are u promoting use of abusive languages and disrespect to fellow human beings? just a disclaimer will not do;please prove it in ur shows;cultured controled use of words need to be promoted,not the otherwise #BiggBossTamil #biggboss
Sean Jose Mookan: Imagine if #Balaji can do it on TV, what would he be doing behind closed doors? No woman deserves a prick like him #VivoBiggBoss #BiggBossTamil #BiggBossTamil2
You Tamil: #Nithya is right in saying that she just wants to be friends. it is #balaji who is not letting go. She lived alone for a year without any financial/emotional support from him. So who here has the best interest of the child now #balaji? #biggbosstamil #biggbosstamil2 #biggboss2
Rohit Rajavel: Are u for real??Like Seriously?How can u even support #Balaji.?When i c ppl like u..im actually scared worried for the society nd the safety of d women..Im not asking u to support #Nithya..but #Balaji?
There r soo many videos in YouTube u cannot trust everything..#BiggBossTamil 2
Guys...if v all co-operate v can do something about it..lets all trend something against #balaji and also tag @vijaytelevision @ikamalhaasan ... PLEASE....V GOTTA DO SOMETHING...V CANNOT TRUST @ikamalhaasan ...THIS NEEDS TO STOP.ITS HIGH TIME THERS A CONVEYD THRU #BIGGBOSSTAMIL
baptokkis: #BiggBossTamil yashika and aishwarya are so young that they don't see what is haplening to nithya. They keep shutting nithya down whenever nithya stands up for herself. They need to see more of life
#BiggBossTamil sad that only sendrayan (and now mumtaz after witnessing balaji's treatment of nithya) treats nithya with respect and affection. I really feel for nithya. She's not playing victim. She's being such a champ when life has dealt her dirty.
Dear: If the retarded audience in the weekend episode support this guy balaji. It will only show the quality of people we live among #BiggBossTamil
#BiggBossTamil last episode moral. Men can't take orders they should not get full points.
#BiggBossTamil vaishnavi to Nithya, ignore when some talks bad words. When balaji use it on her she goes and whins and complains. Hypocrite much??
It just shows the quality of people you live among nothing to be proud here. and you don't need to be a feminist to understand this. #BiggBossTamil I hope you don't take balaji as your idol and give reasons to treat someone bad. Treat your women right!
Vani Gobal: Plus, because balaji didn't give Nithya enough work, she got punished by being nominated for eviction the following week. Balaji was the one who nominated her! Yet he complained that she was being bossy by giving him tasks! This is so nuts... #BiggBossTamil
Agz: Replying to @Vic_Vij @sripriya
Sir, you can't justify by saying he can't help it! Wen he can't control his anger wen the cameras around him think how would he react wen he is alone with her! Abusing is not just bad it's more than that! #biggbosstamil