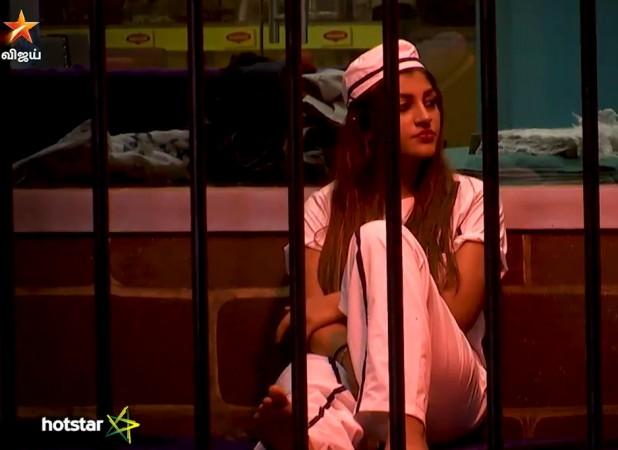 Yashika Aannand is the 13th contestant to be eliminated from Bigg Boss Tamil 2. Her eviction has come as a surprise to the viewers as people were expecting Aishwarya Dutta to be out of Kamal Haasan-hosted show. Tamil Bigg Boss 2 Memes and Trolls.
After coming out of the show, Yashika thanked people for supporting her to stay till the penultimate week of Bigg Boss Tamil 2. "I came here to find myself and learnt a lot from this journey. I never cried in my life. I am told even as a newborn I did not weep and people thought I was an abnormal baby," the actress told Kamal Haasan.
"It is a honour to be standing next to Kamal Haasan sir. I had told my family that I would return in two or three weeks," the young actress said. Yashika claimed that the inmates gelled well and admitted that she developed feelings for Mahat at some stage.
"I learnt 99 lessons in 99 days and also realised that I cannot live without my parents," she added while stating that she did not give up till the last moment.
Yashika pointed out that she did not hurt anyone and she treated Aishwarya like her baby. "I am like her mother and I feel like leaving my baby inside the Bigg Boss house," she further added,
Before leaving the stage, Yashika apologised people if she has let them down or hurted them.
Kamal Haasan said, "I found you to be a very matured person. You played it well. I wish you all the best."
The actress claimed that she realised the importance of her parents and time after entering Bigg Boss Tamil 2. She got emotional after watching the video of her journey and bowed down
Viewers had expected Yashika to enter the last stage of Bigg Boss Tamil 2 and it was said that she was one of the favourites to win the trophy. Undoubtedly, her performance in tasks was appreciated even by her critics, but her strategies and behaviour did not go well with the viewers.
However, a poll conducted by International Business Times, India had shown that people wanted Aishwarya and Yashika to be out of Kamal Haasan's show. The voting graph can be seen below:
Mamthi Achari, Ananth Vaidyanathan, Nithya Balaji, NSK Ramya, Shariq Haasan, Ponnambalam, Vaishnavi, Mahat Raghavendra, Dannie Anne Pope, Sendrayan, Mumtaz and Thadi Balaji are the contestants who have been evicted from Bigg Boss Tamil 2 house.