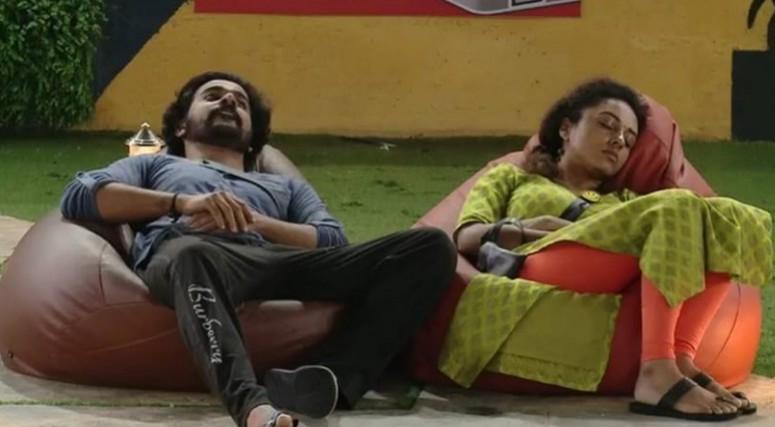 The September 18 episode of Bigg Boss Malayalam was loaded with melodrama and emotions as Pearle Maaney cried and requested Bigg Boss to evict her from the house. The unexpected move from Pearle Maaney literally perplexed her boyfriend Srinish, and at one point in time, he asked Pearle whether she is trying to break up with him.
Episode updates
In the initial moments of the 'Bigg Boss Malayalam' episode housemates danced under the leadership of Archana Suseelan. As usual, Shiyas did some very fun moves. Suresh also found it hard to replicate the fast dance moves of Archana Suseelan.
After some time, a non-living dummy guest visited the Bigg Boss house. The primary task of the housemates was to take care of this guest. In the meantime, Bigg Boss spotted Aditi and Archana Haridas taking a daytime nap. Soon, Bigg Boss asked the duo to jump in the swimming pool as a punishment.
Soon, the romantic pair of Srinish and Pearle Maaney engaged in a verbal war. Pearle Maaney alleged that Srinish is not finding time to talk with her while inside the Bigg Boss house. Srinish replied that it is actually Pearle who is trying to avoid him.
"Pearle, you are trying to avoid me. You are not talking to me. I am becoming an idiot. While talking with others in the house, you are very happy, but you are always sad while spending time with me," Srinish told Pearle.
At one point in time, Srinish indirectly alleged that Pearle Maaney is trying to ditch him. Soon, Pearle started crying and went near the exit door. She asked Bigg Boss to open the door so that she can leave the house. Even though Sabumon and Srinish tried to console her, Pearle took an adamant stand.
Later, Bigg Boss gave the contestants a task named 'Elloori Raja'. As expected, Shiyas failed in the task, and he boycotted midway. In the night, Srinish and Pearle said sorry to each other.