Actress Resham Tipnis was eliminated from Bigg Boss Marathi just a week before the announcement of the winner. She was one of the strong contenders to win the show and was much loved by fans who helped her last on the show until the finale.
But Resham Tipnis was also criticised by viewers for her attitude towards some contestants and also her obvious closeness to contestant Rajesh Shringarpure, with whom she was seen cuddling and kissing on the show.
In an exclusive interview with International Business Times, India, Resham Tipnis decided to come clear on her alleged liaison with Rajesh Shringarpure, who she says is a friend from before and a married man with kids.
Resham also spoke about her time on the show, and why she feels Megha Dhade could win Bigg Boss Marathi, sidelining Pushkar Jog and the other finalists. Resham also says that being inside the Bigg Boss Marathi house is like therapy. Here are excerpts from the interview.
Q. Tell us about your journey on Bigg Boss Marathi.
A. My journey was absolutely fine. It was a completely different experience for me. I got to know a lot of things about myself which I was not knowing. Everybody likes to praise themselves saying they realised their plus points. But I came to know a lot of minus points about myself, what I should be working on and how to work on myself. I came out as a different person out of the Bigg Boss Marathi house and I love this change in me.
Q. Who was your favourite contestant on the show and who was your least favourite?
A. Least favourite...of course, there were wildcard entries. I was not very happy with it. They didn't get a chance to prove themselves also. I don't actually feel anything for them or about them. But I would like to say that Megha Dhade is playing very well. Now since I'm out...at that time (inside the house) I used to not like her, the way she played. But I don't second my opinion. I think she is playing good. Because I think she is very clever and she knows exactly what works and what doesn't. I never understand these things and I'm a duffer for the Bigg Boss game. It's good I'm out! I would definitely not been able to do what Megha Dhade is doing.
Q. But you didn't think you would win Bigg Boss Marathi because you were already popular?
A. I had thought that I would win because sometimes people like 'masala' and sometimes people really appreciate genuine people who are good human beings and good at heart. So, there were chances of me winning.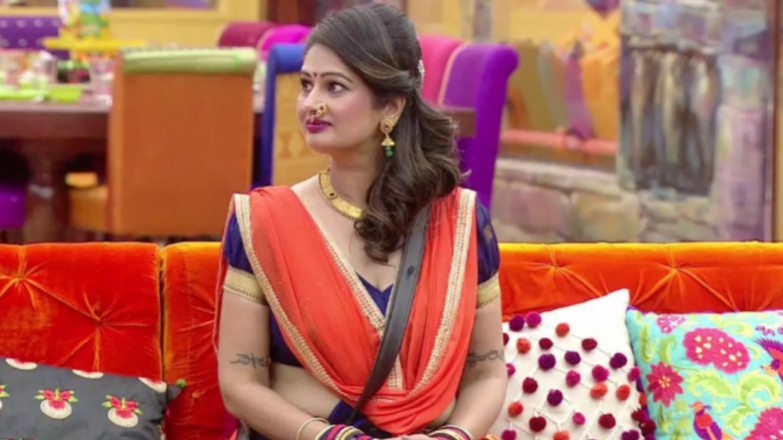 Q. What about your equation with Rajesh Shringarpure? That was pretty controversial...you were inside so probably you didn't know.
A. Yeah yeah. Kaafi bawaal ho gaya idhar toh baahar. Mujhe toh pata nahin tha kee itna hungama hua. Aur mein soch rahi hu kee kyun hua! Aisa kya kar diya maine yaar? Hindi (Bigg Boss) mein toh isse bahot jyaada hua tha. Bure level pe cheeze hui thi. Idhar aisa kya ho gaya. Do dost...(Resham and Rajesh), kya genuine dosti dikhayi nahin gayi? Contestants mein 15 logon mein do log the jo mujhe pehle se pehchaan te the, in and out. (It created a lot of controversy outside. I didn't know that it would create such a ruckus, and I'm wondering why it happened. What have I ever done! A lot more has happened on the Hindi Bigg Boss., worse things have happened. Didn't people notice our genuine friendship? Among the 15 contestants on Bigg Boss Marathi, there were two who already knew me in and out.)
Obviously, I was very comfortable with them. And they don't treat me like a girl! They treat me like a boy! Apne dost ko kaise gale lagate hain, waisi hee relationship thee. yeh kyun nahin dikhayi diya logon ko? (Just like how we hug our friends...it was a pure and healthy friendship. Why didn't people notice it?) And please, he's a married man ya! He has a lovely wife and he has lovely kids. I think the controversy must've affected Rajesh a lot and I feel bad for them! I hope with this interview I can convey this message to people kee app jaisa sochte hain waisa kuch nahin hai (it isn't what you think it is).
Q. So, what about Pushkar Jog and Sai Lokur and their closeness on the show?
A. Clever you noticed! A long hug is okay but a small friendship hug is not I think...
Q. So, is there something brewing between them?
A. No, no, nothing. You asked me the question and I gave you the answer. What you see and feel is incorrect. Actually, they are very good friends and have a very healthy relationship. The same thing happened with them (like with Resham and Rajesh). They came to know each other in this show, they are friends now and they have bonding and understanding. That's exactly what and how it is. I was inside and I could see their friendship, so I can say now that it is pure friendship.
Q. How difficult it is to survive the almost 90 days that you have in the Bigg Boss Marathi house?
A. 90 days. It was difficult, it was not easy. It's therapy. They play with your mind. It's a psychological effect which is happening to you.
Q. Did Mahesh Manjrekar the host also play with your mind?
A. No, Mahesh was doing his job. He was really good. He was the perfect host. He scolded us where we went wrong and praised us when we were doing good.
Q. Was Mahesh Manjrekar a better host than Salman Khan (host of Hindi Bigg Boss)?
A. Hey, don't talk about Salman! I'm a big fan of his!
Q. So what if you get invited to Bigg Boss Hindi by Salman Khan?
A. If they call me in Hindi Bigg Boss, I will take Megha Dhade with me! (Laughs) I'll win! She will play the tasks and I'll sit back and relax and enjoy, which I could not do in Bigg Boss Marathi.
Q. So, who do you think will win Bigg Boss Marathi Season 1? Pushkar Jog or Megha Dhade?
A. After what has happened to me, everything is unpredictable. But I want Aastad Kale to win!
Q. What next after Bigg Boss Marathi for you?
A. I would like to do a Marathi daily soap now because I've not done it for a long time. I have already been working in Hindi and will continue to do so, but I will accept a good role in Marathi if it comes my way.
Q. How did your kids welcome you
A. My kids were waiting for me. We are going to spend some nice time together, my kids and Sandesh (her boyfriend) and me.
With that, we bid goodbye to the fiery personality Resham Tipnis who was popular on Bigg Boss Marathi. The reality show will have its season finale on Sunday, July 22.