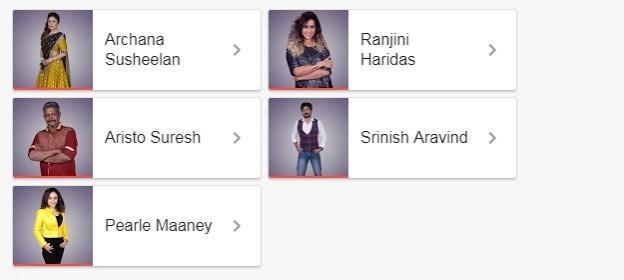 Five housemates including Srinish, Ranjini Haridas, Pearle Maaney, Suresh and Archana Suseelan were nominated for elimination by the contestants during the August 13 episode of Bigg Boss Malayalam. It should be noted that all the contestants in the list of nominees except Srinish are strong contenders, and they are widely considered the hot favourites to reach the final stage of the reality show.
Even though Srinish has been less active during tasks, the serial actor has succeeded in garnering a decent fan following, especially lady audiences during these 50 episodes. On the other hand, Pearle Maaney and Sabumon have their so-called 'army' on social media platforms, and it will surely help them to reach the comfort zone with ease.
Ranjini Haridas is the one who will face a really tough challenge during this week's elimination process. Her recent tiff with Shiyas has apparently irked audiences a lot, and many people are campaigning on social networking sites to vote against Ranjini in the elimination.
Bigg Boss audiences can make use of both Google and phone to vote for their favourite candidates. IB Times India present you the ways in which viewers can vote for the contestants whom they want to see inside the house.
Voting using Google
This is perhaps the easiest way to cast votes for Bigg Boss contestants. To cast votes, users should go to Google type 'Bigg Boss Malayalam voting'. Following this Google will display various results, and to vote, viewers should use the first search result. A user has the privilege to cast 50 votes. The vote share can be given to either one contestant or can be divided to multiple contestants as per the wish of the user.
Voting using SMS
Another way by which audiences can cast their votes is by sending SMS. To vote for contestants, audiences should type 'BBContestant's name' 57827. For example, if you want to vote for Srinish, you should type 'BB Srinish', and should send the message to 57827.
Mohanlal, the host of Bigg Boss Malayalam will announce the name of the contestant who will be evicted on this weekend episode.