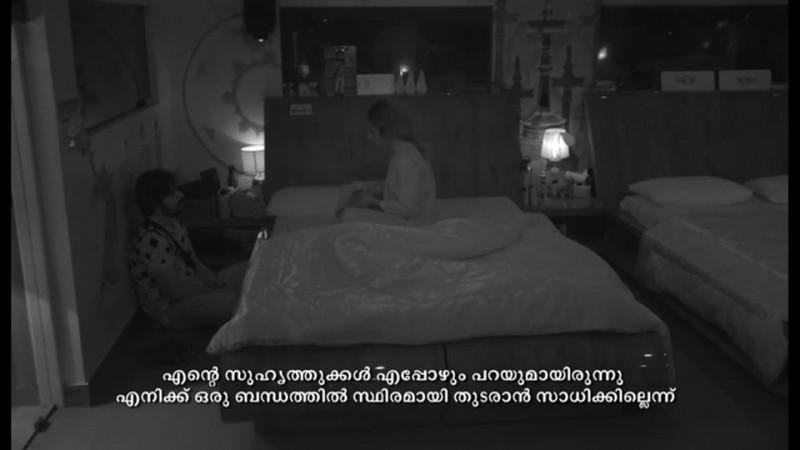 The latest episode of Bigg Boss Malayalam witnessed some tiffs between Pearle Maaney and Srinish, the lovebirds inside the house. At one point in time, Pearle Maaney even confessed that she is not capable of staying in a relationship for long. Later, she handed over Srinish's ring back which indicated that both of them are saying adios to their romantic affair.
It all happened when Shiyas asked Pearle Maaney regarding her relationship with Srinish. Shiyas asked her whether anything has gone wrong between Pearle and Srinish, and these words irked the 'Nayika Nayakan' anchor to the core. Later, Pearle asked Srinish why he is discussing their private matters with his friends. Hearing this Shiyas became angry, and he loudly said that Srinish is his best friend.
During these arguments, Srinish maintained his cool and told Pearle that she is trying to avoid him all the time. Pearle replied that the exit of Aditi has affected the house a lot, and added that she is now in charge of doing all the household activities.
Later, during the night, Pearle and Srinish talked and decided to end their relationship. However, after some hours, both of them were seen talking again in a romantic manner.
As Pearle Maaney tried to breakup with Srinish, social media users have started lashing out against the 'Who' actress stating that she is an experienced cheater. Most of these users, especially on Facebook groups like 'Bigg Boss Malayalam Fans' argue that Pearle has actually faked love towards Srinish to reach the grand finale of Bigg Boss Malayalam.
Pearle Maaney's new move has apparently not gone well with her fans too. As the voting process to determine the winner of Bigg Boss Malayalam is in its final stage, Pearle Maaney's unexpected withdrawal from the romantic affair could create negative impacts on her chances to win the Bigg Boss Malayalam title.
Latest statistics reveal that Pearle Maaney is leading the race to win the title, and she is closely trailed by Sabumon Abdusamad and Shiyas. If Pearle racks up negativity in the final days, then Sabumon's possibility to win the title will be elevated drastically.