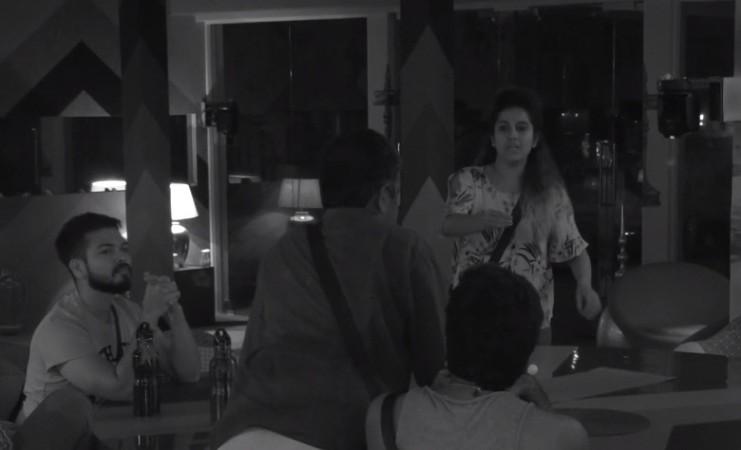 The elimination of David John has apparently shattered the minds of Sreelakshmy and Anoop Chandran. In the initial moments of the June 02 episode, Sreelakshmy requested the 'Bigg Boss' to take care of David John until she comes out from the house. Anoop Chandran told everyone that David John will take the fame of his village to new heights in the coming years.
Later, Diya Sana, Aristo Suresh, Archana Suseelan and Adithi engaged in heated arguments regarding the elimination process. Adithi alleged that Diya Sana had not supported her during the voting process. However, Diya Sana made it clear that David John was one of her best friends, and this has compelled him to vote for the eliminated guy. Later, Adithi too admitted that David John was a good guy.
When all the team members united in the dining table, Ranjini Haridas sorted out an argument by switching Adithi into a different team.
In the next scene, Pearle Maaney was seen weeping in front of Swetha saying that she wants to go home. Swetha Menon soon somehow consoled Pearle. When Diya Sana and Hima Shankar Seematty entered the scene, things took a new turn, and a small tiff arose between Swetha and the duo. During their talk, Diya and Hima talked about the problems happening with the cooking team.
Pearly once again started weeping, and she told Ranjini that she is unhappy to see everyone fighting in the house. Archana Suseelan initially tried to make Pearle happy, but later ended up mocking her.
In the meantime, Swetha advised Aristo Suresh not to use words like 'fart' during cooking time.
At around 01.00 PM, Archana Suseelan told Diya Sana and Deepan that Ranjini Haridas, Swetha Menon and Pearle are acting as a team to belittle others. She also alleged that Swetha and Ranjini are trying to protect a non-performer like Pearle Maaney.
On the next day, the team members woke up by dancing the song 'Thattum Muttum' from the Prithviraj blockbuster 'Puthiya Mugham'.
While talking with Srinish, Aristo Suresh argued that women should enter the kitchen only after taking their bath.
Adithi was later seen complaining that the contestants in the Bigg Boss house have a double face. In the next scene, Aristo Suresh was seen skipping the meeting saying that he is suffering from a severe headache. During the meeting, Deepan insisted that his team will clean the floors only two times a day.
In the afternoon, Anoop Chandran, Aristo Suresh and Basheer Bashi talked about Sreelakshmi's melodramatic attitude during the elimination of David John. Basheer alleged that Sreelakshmi is a good actor who knows how to capture the public attention when in front of the camera.
Finally, the nomination hour came. House captain Ranjini nominated seven names including Suresh, Diya, Anoop, Pearle, Srinish, Hima and Deepan. Later, Bigg Boss asked Swetha to select two nominations out of these seven names. Swetha initially nominated Aristo Suresh, and later she nominated Hima. Deepan nominated Suresh and Anoop Chandran, while Sreelakshmy named Anoop and Hima.
Srinish also nominated Suresh, and later he also named Pearle. Adithi nominated Pearle stating that she has a double face attitude. She also named Deepan stating that he is short tempered.
Sabumon named Hima and Pearle. Pearle on the other hand named Aristo Suresh and Srinish. Hima Shankar initially nominated Anoop Chandran and later Pearle Maaney. Aristo Suresh named Deepan and Hima in the first and second positions respectively.
Diya Sana nominated Pearle, even though she claimed that the 'Who' actress is cute. Divya Sana revealed that Pearle lacked identity. Aristo Suresh was also nominated by Divya Sana.
Anoop Chandran nominated Deepan and Hima, while Basheer Bashi named Diya Sana and Deepan. Archana Suseelan described Anoop Chandran as a person with no integrity and named him first. The serial actress later named Pearle Maaney.
Finally, the episode ended with some loose talk among contestants, and they speculated their thoughts regarding the elimination process.