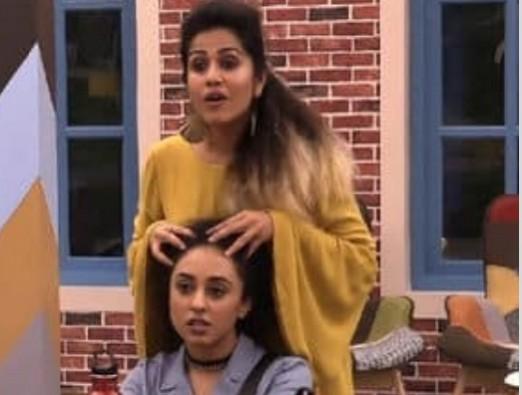 The July 12 episode of Malayalam Bigg Boss began with a splendid dance of the contestants along with the song 'Kaadirangi odi vannoru' from the Superhit movie 'CID Moosa'. Later, Swetha Menon was seen behaving in a very melodramatic manner inside the house stating that she is missing her husband Sree and kid. She even took a photo and cried a lot after looking at the pictures of her dear ones.
At around 11.45 AM, Hima Shankar was seen practicing Yoga, while Shiyas tried to spoil her concentration. Hima Shankar asked him why he is sitting beside her while she was practising Yoga. After receiving criticism from Hima, Shiyas left the scene. At 11.30 PM, Anoop Menon gave music lessons to Pearle Maaney and Deepan.
Later, Pearle Maaney criticized Swetha stating that the 'Kalimannu' actress is not doing work properly. Swetha explained that she had hip pain, and hence, not doing any hard-natured work. Pearle argued that even Bigg Boss and Mohanlal are standing in favour of Swetha.
In the next scene, Shiyas fought with Archana Suseelan and Diya Sana stating that he has the rights to eat enough eggs as he wishes. When Diya argued back, Shiyas lashed out at the social activist stating 'he is not anyone's slave'. Later, other contestants consoled Shiyas, and he finally understood the value of maintaining sufficient food items for a week.
After some moments, Bigg Boss asked the team members to form a court so that complaints can be dealt with in the house itself. Bigg Boss also informed that Anoop Chandran will be the judge in the court, and nobody has the right to lodge a complaint against the judge.
At 05.00 PM, all the contestants gathered in the court, and the first culprit was Ranjini Haridas. The person who complained argued that Ranjini Haridas is a person who tells blatant lies. Ranjini Haridas, during the hearing, informed the court that the judge has a personal grudge against her.
The second culprit was house captain Srinish, and the person who complained alleged that the captain is not responding to their queries. The judge later asked Pearle as a witness, and during the hearing, Pearle informed the court that it was not the captain's problem, but it is the laziness of Swetha Menon which is creating the problem. Pearle also added that if Swetha has hip pain, then she is not fit enough to continue in the house for the contest. The court gave a small punishment to Srinish and closed the case.
The next accused was Hima Shankar, and the complainant alleged that Hima is a person who loves to make quarrels all the time. After the hearing, the judge asked Hima to massage the heads of all contestants as a punishment.
In the final moments, Asianet also aired the teaser of July 13 episode which showed heated arguments between Sreelakshmi and Aristo Suresh.