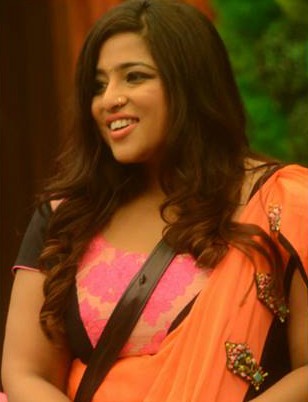 RJ Malishka, who went into the "Bigg Boss 8" house as Pritam Singh's guests, spilled a few fun secrets from the event.
First up, Malishka told Miss Malini in an interview that entering the "BB8" house has a very interstellar-esque feel to it. "It was like going into a wormhole... full interstellar like," MM quoted the RJ as saying. Apparently, one has to cross a couple of doors and some levels of security to get into the house.
The chirpy Malishka also hugged Gautam Gulati tight saying girls are dying to do this to him and so it was fitting to make them jealous this way. She appreciated the chicken cooked by her friend, Singh, and also explained how beautifully the house was done up in colourful balloons for the party.
Calling Diandra Soares genuine, she confessed to having touched her bald head just for some fun and revealed RJ Mantra's fun gift for Singh. However, the RJ made sure she asks about the brave kiss act that Soares put up in everyone's presence. To which, Soares reportedly said that's the way she has always been.
She, along with guest Sayantani Ghosh danced on the dining table to music director duo Sajid Wajid's music. In other news, Malishka also gave an insight about how it feels to be confined in the glass walls of the mad house. "So the thing is that you meet them and everyone looks the same, but they feel different, you know? I think the house does that to you... you enter the house with some pre-conceived notions about each person, but you have to realise that they're so vulnerable when they're in there," she explained.
However, she also picked Puneet Issar and Dimpy Mahajan as her least favourite contestants. "Not least favourite, but if there were a ranking then, Dimpy and Puneet," she said.