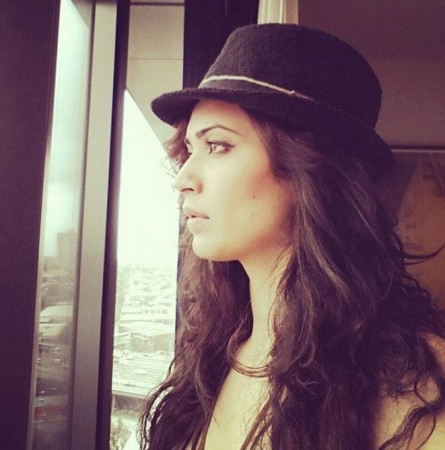 Reality show "Bigg Boss 8" is known for its drama and controversies, and this season is no different. It's been just 17 days and contestants have already started showing their true colours.
Like the previous seasons, the current season of the show too features contestants, who are considered to be extremely irritating. Viewers have named few celebrities in the most annoying list, but its television actress Karishma Tanna who takes the cake.
The first controversy grabbed eyeballs with Gautam Gulati and Karishma's argument, which started during the task. Gautam used foul words against Karishma, following which she asked "Bigg Boss" to disqualify him from the task. This week she again picked on Gautam, calling him 'Ghatiya' (crude) and a loser.
'Bigg Boss 8': Why Did Gautam Call Karishma Tanna 'Dumb'?
During the Babbar vs Lamba task, Karishma and Soni Singh, from Arya Babbar's team, pushed Deepshikha Nagpal, from Minissha Lamba's team, onto one of the mirrors. Karishma further irked Sonali Raut by pouring water on her to ruin her make-up.
Although Karishma was doing her task, her attitude didn't go down well with other contestants. Gautam told RJ Preetam that she is dumb and he is not sorry for his behaviour. Even Sonali while talking to Upen Patel said that Karishma is a slum dweller.
Not only contestants, even viewers have called her annoying and asked "Bigg Boss" to eliminate her from the house. Some of them have even compared Karishma to Dolly Bindra, who is still known as the most annoying character in "Bigg Boss" until now.
Here are few viewers' tweets who commented on Karishma's aggressive behaviour and her attitude:
@Zara_Ahmad: Compared to Karishma, Dolly Bindra is one classy lady! #BiggBoss8 #BB8
@MummasgirlZahra: sonali was right..she comes from 'slums' #BiggBoss8
@PLoading: Contestants get paid on the drama they do everyday.so far Krishma is the highest paid contestant #BiggBoss8
@sweetxtoxiic: #bb8 Karishma Tanna makes Dolly Bindra look classy...sonali was right..she cums from 'slums' #BiggBoss8
@Tweetaard: Can someone please shove a stick or something down Karishma Tanna's mouth? #BiggBoss8 #WTF
‏@Sarun92: Karishmas comment about Gujarati/Marathi medium education was so uncalled for. The woman is vile. #BB8 #BiggBoss8
‏@Poonam_PandaZ: Can Tanna just leave tho? #GetKarishmaOut
‏@saumyavarshney: #BiggBoss8 can you plz evict karishma tanna.. she is super annoying
@Bact_man: What really shocks me is the fact that Karishma Tanna has a FC. I mean seriously guys, you like her of all people?! #BiggBoss8
@anischster: that squeaky irritating voice of psycho aggressive freak + social disorder #vaaghran #KarishmaTanna makes me wanna chokeslam her #BiggBoss8
@armaan_xo: #BiggBoss8 Karishma is as annoying as a constantly flickering eye. I hope @BeingSalmanKhan shoves some sense into her this weekend
‏@Adiba_xx: Karishma Tanna lol are you trying to get famous by acting like this on #BB8 like She so desperate, it's disgusting.What a loser. #BiggBoss8