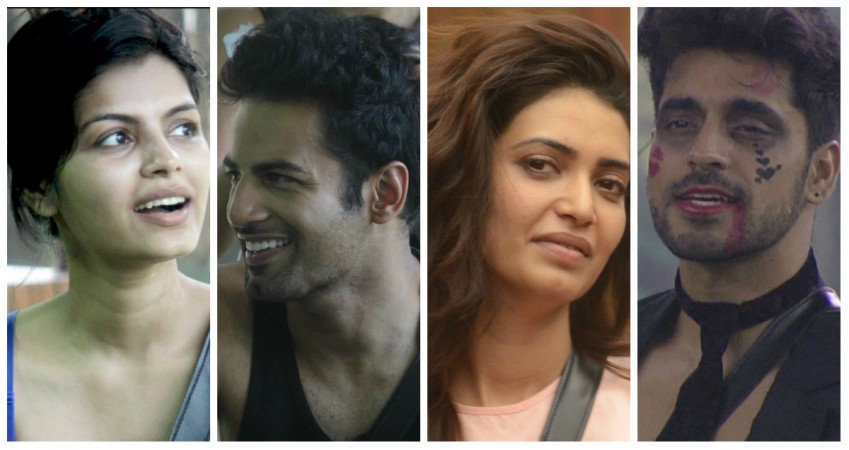 Day 17 on "Bigg Boss 8" was all about the friction between Minissha Lamba and Aarya Babbar's teams.
As ordered, the tasks needed to be done by bed time, and so Babbar and Lamba decided on finishing off lunch and then resuming the task.
But Lamba, who was in a rush to accomplish the challenge, begun without giving any heads up to Babbar. As a result of which, the opponent team used aggressive tactics (in a fit of rage) to keep Upen Patel and Sonali Raut from uniting.
While Karishma Tanna began splashing water on Raut's face, Soni Singh made an effort to block Upen's way to the bathroom. RJ Preetam Singh, who was given the camera in order to click photos of the newly-wed couple – Patel-Raut – in the house, succeeded in his job. However, after tattooing names on each other's arms, taking the wedding vows, and getting married on the show amid rigorous opposition, the couple put a full stop to their tasks.
While taking a break from the pacey task, Gulati, Sing and Praneet evaluated performances. Tagging Tanna as 'dumb', Gulati says he doesn't feel apologetic anymore for abusing her on national television. He added that the actress enjoys hurting people and derives some sort of sadistic pleasure from watching people getting disappointed.
After Lamba's team was announced the winner, many began criticising the decision. While Diandra Soares said the rules were set and bent by the winning team, Tanna called Lamba a hypocrite.
However, salt (which was missing from the ration supplies) was delivered to the house but the winners were still not given the luxury budget items.
Interestingly, much after the task was done and dusted, Patel and Raut were chit-chatting about Tanna's inappropriate ways of completing any task. The "Xpose" actress even labelled her as 'uneducated' and said her behaviour reflects that of someone from a slum.
Discussing the day, Patel asked Raut about her dream man. Stating tall, fit, respectful and rich as important criteria, the contestant said she isn't a cribby girlfriend and so wants someone who isn't possessive.