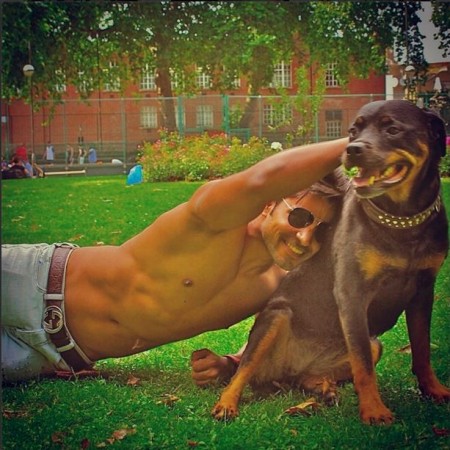 Gautam Gulati is one of the loved television personalities and the most popular "Bigg Boss 8" contestant. He was declared the most popular contestant of "Bigg Boss", until now, by survey firm Ormax India.
Gautam popularity has been increasing day by day, which can be seen with Twitter trends. His fan base has grown from the start of the reality show "Bigg Boss 8".
During the "Bigg Boss 8" grand finale night host Salman Khan almost declared him the winner. Salman revealed that Gautam got the highest votes and is the top contestant from Champions team.
And now, thanks to his fans, he broke the record of last year's winner Gauahar Khan. #GautamGulatiFever has been trending on Twitter for over 20 hours, breaking the record of ex-contestant Gauahar's hashtag.
Gautam's fans have trended the hashtag from more than 20 hours, and it is still the trending second trend on Twitter India, making it one of the hottest topics.
Last time, #ISupportGauahar trended for over 11 hours after the slap-gate incident happened in December.
Meanwhile, check out some funny posts by Gautam's fans that prove his popularity:
@Pavantweets39 @TeamGautam Ok.. Lets make history of sch fandom n spport tat anybody cld not even think of brkn it.. #GautamGulatiFever

— yogesh raghuwanshi (@RaghuYogi) January 10, 2015
Wow i just Retweeded 50+ #GautamGulatiFever not bad huh?;) #bb8

— Thaman (@oh_yes_thaman) January 10, 2015
#KarishmaTannaCraze wont be trending .. watever u do.. its #GautamGulatiFever ... we love we l9ve gauti

— pradnya gogawale (@pradnyagogawale) January 10, 2015
@AmazaynRia thats for sure. ? even haters are fond of Gautam.!! #GautamGulatiFever it is ?

— Virat Kohli ❤️ (@imvnaj) January 10, 2015
Haters get your vaccines ready coz there's a new widespread viral flu all over named #GautamGulatiFever It may prove deadly for you. #BB8

— Buzzoff GG mocKeRs (@seldom_care) January 10, 2015
1 man 15 haters and billion supporters #GautamGulatiFever @TheGautamGulati

— Mohit gulati (@themohitgulati) January 10, 2015
So now the Haters have a problem with #GautamGulatiFever trending. Calling it "showing off"? So Why are you trying to trend Tanna? #BB8

— KPK #GautamFTW (@AhluwaliaPreet) January 10, 2015
AWW....keep burning haters ,,gauti will continue to rock #GautamGulatiFever #BB8 pic.twitter.com/iG15POnO4B

— |Gautam,My Gautam♥|™ (@MyGautiWillWin) January 10, 2015
Its Challenge For Haters of Gautam, Trend for ur Fav contestant Its Impossible to come in Trending list & keep trying. #GautamGulatiFever

— Gautam Gulati (@fejukhan786) January 10, 2015