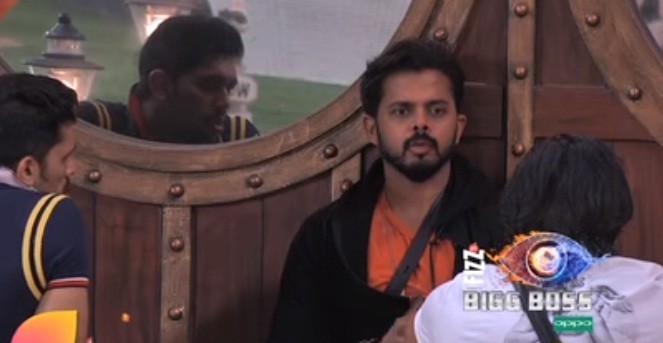 Touted as one the strongest contestants within the house, Sreesanth's name was a regular feature whenever the list of expected contestants on the show used to come out.
However, when he did, in fact, enter the house, we're startled to see a completely different and unexpected side of his personality. Now that five weeks are over, here are some reasons to ponder his performance and see whether he still holds the winning streak in Bigg Boss 12.
Quitter: For those of you, who followed him on the dance reality show, Jhalak Dikhlaa Jaa, you would know that he has always been a quitter. Even on that show, Sreesanth never used to take criticism positive and had many times threatened to quit the show. Inside the Bigg Boss house too, we get to see his giving up attitude almost every other day. Not only he threatens Bigg Boss that he would quit the show, he has several times tried to run away from the house too. And this is something which most certainly is not expected from a cricketer of his stature.
Drama: From cricket fields to the house of Bigg Boss, Sreesanth hasn't given up his howling attitude yet. After every fight, we see Sreesanth breaking down into tears. The former cricketer fails to stand up on his own and instantly shows that he does regret his action by crying. With his sulking attitude, Sreesanth is definitely not setting up a right example for anyone to follow.
Disrespectful towards women: We don't remember any Bigg Boss winner who had a habit of being disrespectful towards women. Be it Prince Narula, Gautam Gulati, Manveer Gurjar or Ashutosh Kaushik -- all these men were known for their cordial and respectful behaviour towards women. Sreesanth not only abuses women in the house but doesn't hesitate in showing explicit gestures towards them.
Disloyal: One more trait that we have always found in the winner of Bigg Boss over the years has been their loyalty. However, when it comes to Sreesanth, we haven't seen him being loyal to anyone in the house. Not even towards Dipika who takes care of Sreesanth like a baby.
These are some of the reasons which make us feel he is not progressing in the right direction to win the show. Do you feel the same? Let us know.