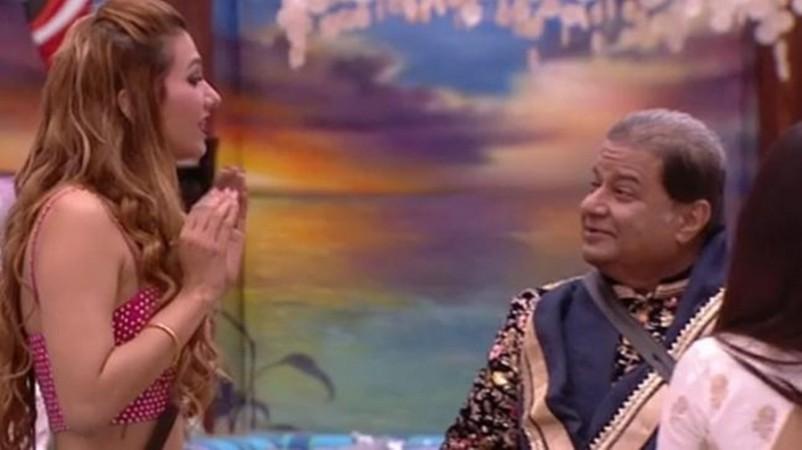 Within the first week of Bigg Boss 12, the house has already given a lot to the audience to pique its interest. From Jasleen Matharu and Anup Jalota emerging as the much-debated topic of discussion within the house to Saba and Somi Khan's nagging attitude, to Dipika Kakkar being a little bossy and Sreesanth threatening to quit the show every now and then; the audience have seen a lot, heard a lot.
It's not just the situation within the house, but its the same outside the Bigg Boss house as well. Jasleen and Anup Jalota's relationship has raised quite a few eyebrows. From Jasleen's father not blessing the jodi to Anup Jalota's ex-wife wishing them best; this odd-jodi has been making headlines every day.
And the latest you'd hear will definitely make you sit upright and take notice. So, the latest gossip we have from the house is that Jasleen is an avid follower of a singer, other than Anup Jalota. The housemates are seen teasing Jalota regarding the same and can be seen telling him how Jasleen was blushing while talking about him.
Jasleen added that the particular singer has been her friend for a very long time and even Anup Jalota is aware of it. This raises questions whether Bigg Boss would bring that singer as a wild-card entry within the house. Ahem!
And if that wasn't enough, he jokingly goes on to say that it is time for Jasleen to switch partners and move on. This leaves Jasleen visibly embarrassed and she asks Roshmi to convince Anup Jalota that everyone was just trying to instigate him against her.
Though the housemates refrained from telling the name of the singer on the mike, we wonder, if there really is any truth in the fodder?
Is it time for Anup Jalota to up his guards?