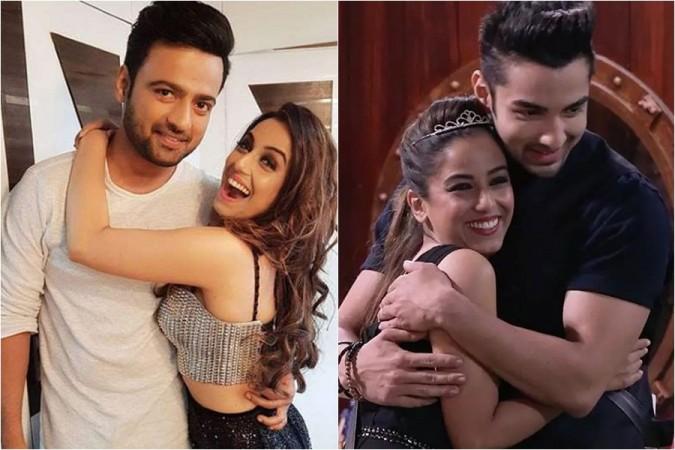 Ever since Rohit Suchanti has entered into the Bigg Boss 12 house as a wildcard contestant, his prime focus had been on Srishty Rode and can be seen trying to start a conversation with her every now and then. In a recent episode, Rohit was chosen to judge a contest which was took place between Srishty, Jasleen and Somi. During the task, Rohit announced Srishty as the winner and performed a romantic dance with her.
Post the task, in housemates started discussing about Rohit's growing closeness to Srishty. The constant murmurs inside the house broke Srishty out into tears in front of Karanvir. She was worried about what her fiance Manish Naggdev will think about her after seeing she getting linked-up with Rohit on the controversial reality show.
However, Manish, on the other hand, isn't worried about the link-up at all. Speaking to IBTimes India, Manish conveyed a message to Srishty saying that everything is fine outside and she need not have to worry about it.
"It's nothing for me. I think that guy likes her and he is being descent enough. So for me it is nothing to worry about things. She's just taking stress. I just want to tell her that everything is ok outside. I am not at all insecure about her," Manish told us.
Rohit looked visibly attracted towards Srishty when he got a chance to perform a romantic dance with her. He was also seen trying to get close to her while performing dance steps.
When asked about Rohit's intentions, Manish said, "I think that's how he wants to play, that's how he wants to portray himself. But my girl is in her limits and she knows what she's doing. She's an actress, a celeb and being part of the show, she's just doing her task nicely. That was just a task for Sristy and nothing at all. It must be a game plan of Rohit to get attention on the show. I don't know because the moment he entered the house, the only subject or focus he had, was on Sristy.
Manish also revealed that the makers of Bigg Boss 12 had called him to enter into the house. Earlier, Saba, Somi and Karanvir were seen talking to the camera trying to convey message to Manish requesting him and Srishty to get engaged on the show.
"I had got a call but it's still working out. I am still in talks with the makers of the show," Manish revealed.