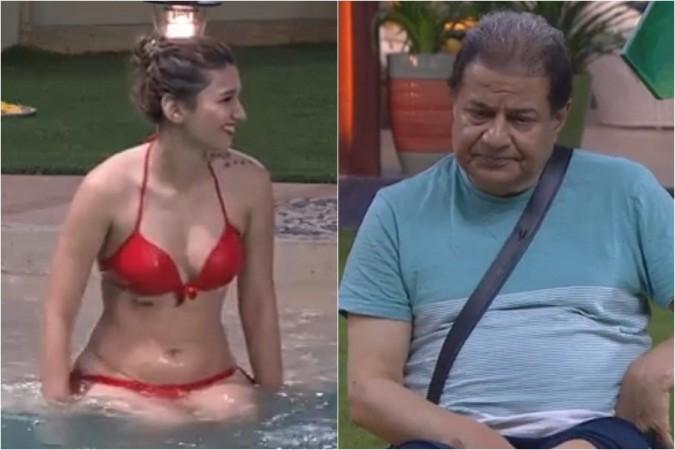 Jasleen gives Anup Jalota 'kiss dare'
The day in Bigg Boss 12 begins with Jasleen Matharu looking like a million bucks in a funky-yet-stylish costume. After putting on some make-up, Jasleen calls everyone to the bathroom area and plants a kiss on Anup Jalota's cheek and forehead. She also asks him not to wipe it off until she asks him to. This leaves the housemates surprised and shocked.
Romil, Karanvir and Shivashish's big fight
While Anup Jalota, Jasleen Matharu and Saurabh are sitting in the living area engaged in a conversation, they are startled by a loud noise coming from the kitchen. First, Karanvir Bohra and Romil are seen fighting over food being wasted. Romil shouts at Karanvir saying everyone wastes food and he is not the only one who is to be blamed. Shivashish joins in the conversation and a big fight ensues between Romil and Shivashish too. Housemates try to intervene and resolve the matter but to no avail.
Vikas comes to show the 'aaina'
Former Bigg Boss contestant and finalist, Vikas Gupta, enters the Bigg Boss 12 house with a mirror to show the contestants where they are standing in the show. He questions Neha Pendse on being so quiet and lost within the house. He also tells her to show some personality or leadership which audience has been waiting to see in her. He commends Urvashi for her honesty and scolds Srishty for not mingling with the contestants. Sreesanth gets an earful from Vikas for always running away from situations and his giving up attitude. Karanvir too faces the wrath of Vikas Gupta who asks him to lead the house as a leader and not as a herd. He gives the same advice to Dipika Kakkar. Later, he commends Anup Jalota and Jasleen for having the guts to accept their relationship. He also advises Jasleen to look her best all the time as she now has a huge fan following outside the house.
Nirmal and Romil go to the kaal-kothri
Housemates choose Nirmal and Romil for going to the jail due to their aggressive behaviour during the luxury budget task, which leads to another big fight within them and the other housemates.