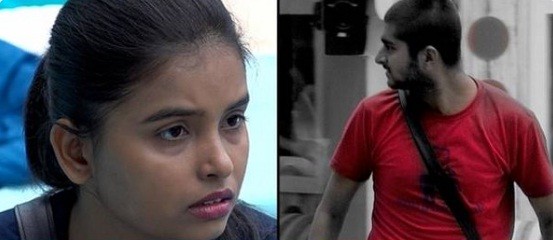 A sweet relationship has been turning sour over the past few days in the Bigg Boss 12 house. Urvashi Vani and Deepak Thakur were once the most envied jodi in the house, but now they are engaging in ugly fights for no valid reasons. In the October 24 episode of Bigg Boss 12, when Urvashi broke down emotionally, Deepak tried his best to console her.
However, Urvashi adamantly rejected his words and at one point in time, she even threw a bottle and slipper on Deepak. During the fight, Karanvir and Sreesanth supported Deepak, while Romil fought for Urvashi. The argument between them finally took a new turn, as Sreesanth and Romil started fighting each other.
#urvashivani #Urvashi khali bottle hi fekti reh gayi kya??

Urvashi is the most selfish girl in the house.

RT if you agree
Like if you disagree

— Kundan Banrasi (@Imbanarasi) October 23, 2018
Even though Urvashi later apologized for her acts, the moves inside the house have not gone well with social media users. Many users who watched yesterday's episode lashed out at Urvashi and stated that she is the most selfish contestant inside the Bigg Boss 12 house.
Some other users argued that Urvashi Vani is the most non-deserving candidate currently there in the house. These users even went a step ahead and have started a hate campaign against Urvashi on social media platforms.
#UrvashiVani is trying to show that she can also entertain like others by shouting and whatever...But she is unable to understand if u need something in this game u have to go and talk to everyone and convince dem no one will serve it to u in a decorative plate...

— Sudeshna ?????? (@Sudz2901) October 24, 2018
In the meantime, a section of Urvashi fans have started alleging that Deepak has hatched a plan with Surbhi to chuck Urvashi out.
Deepak is worst among all. He himself made plan with Surbhi and throw innocent #UrvashiVani out of game. He is cruel and can't ever be trusted. #BiggBoss12

— Pushpendra Sharma (@Pushp14660) October 24, 2018