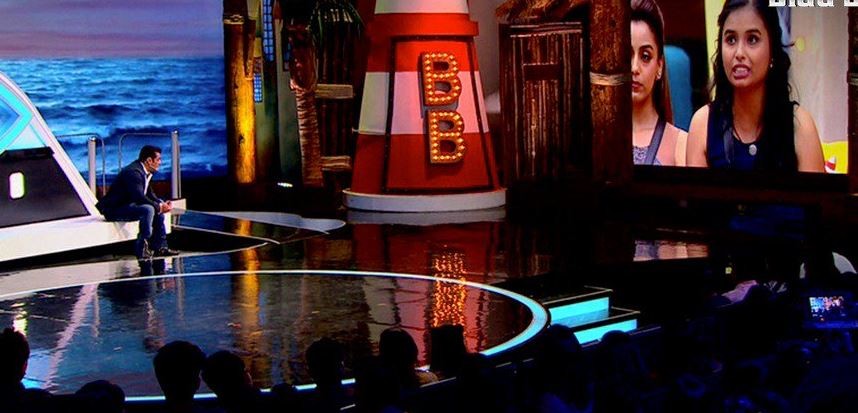 9.50 pm: Somi advises Romil not to feel or think that Sreesanth is the mastermind. Sreesanth is seen asking Dipika why she took Jasleen's name for the torture room. Dipika says that she felt Jasleen added fuel to the fire and shouldn't have said anything about Surbhi if she hadn't seen it personally. Sreesanth gets angry at Dipika and tells her that she should have nominated him instead and not Jasleen. Dipika leaves the room in a fit of rage. Romil is seen discussing with Surbhi whether Sreesanth has been right all along. Salman reveals that two wildcard entries would enter the house tonight.
9.47 pm: Salman reveals that Saurabh is the one who has received the least number of votes which makes Urvashi safe from the elimination. Anup Jalota congratulates Urvashi. At night, Surbhi, Saba and Romil are seen discussing how the audience would react watching Sreesanth this way.
9.35 pm: Salman remembers his pet - My Love - who passed away two days back. Jasleen says that Salman's dog sang better than her and looked cuter than her. Saba is the next person to be saved from the eviction. Salman reveals that Jasleen is also safe this wekeend. Saurabh and Urvashi are the two nominated contestants left.
9.32 pm: Deepak thanks Sreesanth for calling Romil a mastermind. Romil accepts that he was very nervous while performing in the zubaani akhaada. Housemates applaud him for his honesty.
9.29 pm: Romil says he never gives up and that's the best thing about him. He also calls Sreesanth fake and partial. Sreesanth calls Romil a fake mastermind. Romil brings out the episode where Sree spat on Deepak's name. Sreesanth gives a fitting reply to Romil saying he wants to be in competition with him and be in the limelight. Romil calls out Sreesanth's escaping the house as a strategy to be the centre of attention. Sreesanth says that everyone knows he doesn't mean to leave the house. Sreesanth wins the round with maximum votes. It's time for the next round of the dangal. Romil wins the sultaani akhaada
9.25 pm: Dipika and Shivashish try to pitch in their points to Sreesanth telling him to focus. Romil starts changing his lowers in front of Dipika which leaves her embarrassed. Romil apologises to Dipika saying he was in a rush and thus didn't see who all were there in the room. Now it's time for zubaani dangal.
9.23 pm: Even Dibang agrees that Bhuvneshwari defended Sreesanth in the best possible way. Salman declares Bhuvneshwari as the "man of the match". Now it's time for sultani akhaada within the house. Karanvir is beaming with joy after seeing the video of his family. Salman calls Sreesanth and Romil into the sultani akhaada.
9.20 pm: Bhuvneshwari also says that Hindi is not Sreesanth's first language and thus he says things without realising that it might hurt the other person. Bhuvneshwari also defends Sree's habit and says that when he does this to the ball he plays with, which is his bread and butter it shouldn't be taken seriously if he did on a board. Salman is left impressed with Bhuvneshwari's answers and lauds her for defending Sreesanth.
9.17 pm: Manish agrees with Dibang and says that she has not performed to her full potential yet. Salman calls Srishty a "tube light". Next in the katghara is Bhuvaneshwari. Dibang and Salman want to know whether or not he is playing the game and why he gets so emotional. Bhuvneshwari says that Sreesanth is being his real self and he never got the opportunity to vent out his emotions and thus breaks down easily when put under such a situation.
9.15 pm: Bhuvaneshwari gets angry at Shoaib and says no one was satisfied with Dipika's reason behind taking Sreesanth's name. Manish also weighs in and adds that her answer was diplomatic and she didn't make the decision on the basis of the performance within the house. Salman is happy with Bhuvneshwari and Shoaib's answers and jokes that they should have been on the show every weekend. Manish enters the katghara. He says that many celebs entered the house and told her that she is not visible within the house, which made her lose her spark and confidence.
9.12 pm: Shoaib defends Dipika over her decision during the captaincy task. He says that she had told all the housemates if she is wrong. Manish tells him that Dipika is playing a game and it's only Srishty who has managed to stand against her. Shoaib feels that she didn't do anything wrong by throwing water at Deepak's face. He also feels that she is very sensible playing the game. Shoaib defends Dipika's action of nominating Sreesanth saying she wanted to see him happy going home.
9.07 pm: Karanvir is shown a video of his wife, Teejay and his two daughters who turned two. Karanvir Bohra breaks down seeing them. Teejay tells him not to give up easily and never to nominate himself. On the sets, Salman introduces us to Sreesanth's wife - Bhuvaneshwari, Srishty's boyfriend - Manish and Dipika's husband - Shoaib. News anchor Dibang talks about how impressed he is with Sreesanth. He also praises Surbhi for being a 'patakha'. Dibang says that Surbhi's presence has ignited the house. He also says that Deepak has changed completely which is a good and a bad thing. Dibang is also impressed with Romil calling him the "mastermind".
9.04 pm: Salman reminds us that Karanvir Bohra, Srishty Rode had been saved yesterday leaving Saurabh, Urvashi, Jasleen and Saba nominated. Inside the house, Dipika can be seen complaining to Karanvir about Sreesanth. Surbhi can be seen grilling Romil on why he talks sweetly with Sreesanth despite whatever he says to him.
9.01 pm: Brace yourselves for a power-packed evening tonight as Salman grills Bhuvneshwari Sreesanth and Shoaib Ibrahim. Salman begins the show with his most powerful song - Ek Baar selfish hoke. Is he trying to hint at something? (We wonder!) Salman wants the jodis which have been dissolved to start being selfish and play their individual games.
Just when we had made up our minds that this Weekend Ka Vaar couldn't get any better, Salman adds in a dose of surprise to take the entertainment value a notch higher. In tonight's episode of the Weekend Ka Vaar, Salman would be seen mentoring a war-of-words between Dipika Kakkar's husband, Shoaib Ibrahim and Sreesanth's wife, Bhuvneshwari. The duo would not only defend the actions of each other's partners but would also level intense allegations against them.
Last night's episode with Salman was pretty intense as he revealed that Surbhi hadn't smoked inside the bathroom which turned the entire dynamics of the house. Those who were rooting for Jasleen Matharu so far, turned against her and the lies Anup Jalota and Sreesanth had cooked up.
Just like previous episodes, this weekend too, Sreesanth got a heavy dose of grilling over his sportsmanship and giving up attitude.
With Karanvir Bohra and Srishty Rode saved from the elimination, who amongst these – Urvashi, Saba, Saurabh and Jasleen would get evicted tonight?
Sit tight at 9 pm tonight, as we bring you the live updates from the show.