10.10 pm: Salman's close friend, Kajol, enters the Bigg Boss to promote Helicopter Eela. The host recalls Karan Arjun pack up moment that she forced. Later, he asks her about the first movie of Ajay devgn.
10.00 pm: Salman grills Srishty Rode and Saba Khan for getting physical during the captaincy task. Salman advises Srishty that had she maintained her composure and calm, she could have easily won the task. Salman Khan warns housemates that he would personally evict the contestants who would resort to physical attacks in future. He also adds that if Bigg Boss wouldn't let him do this, he himself would leave the show.
9.55 pm: Salman loses his cool on Shivashish for not accepting his mistake. Housemates try to make Shivashish understand his mistake but to no avail. Shivashish refuses to budge from his decision, leaving Salman irked.
9.45 pm: It's time for Karanvir to answer why he ignored Deepak and focused on Srishty when both were equally hurt during the task. Karanvir apologises for his behaviour. Salman reprimands Shivashish and Saurabh for planning an attack on housemates. He also brings forth Saurabh's involvement in the planning.
9.40 pm: Deepak croons the song he had written for Sreesanth. Sree left teary-eyed. Deepak receives a tremendous applause from Salman and the housemates for his soulful singing and heart-touching lyrics.
9.32 pm: Deepak says Sreesanth had asked Sreesanth to pray that he stays inside the house so that he can tell the world what all he has been through.
9.30 pm: Salman agrees with the housemates that Dipika must have become insecure of Sreesanth and hence took the decision
9.9.25 pm: Salman again questions Dipika's decision to evict Sreesanth and questions her integrity.
9.20 pm:Salman asks Dipika for a clarification on why she took Sreesanth's name during the midweek eviction. Did Salman indirectly call Nehha an idiot?
9.15 pm: Anup Jalota and Sreesanth speak out against Dipika Kakkar and her game planning. Sreesanth ready to take-off the masks from the faces of many of the contestants Sreesanth feels Dipika is the most 'shaatir' contestant in the house.
9.10 pm: Urvashi gets 'zero' because of lack of presence in the house. Anup Jalota and Sreesanth give away the awards to these contestants - Kapti - Romil Chaudhary, Bewakoof - Nehha Pendse, Shaatir - Dipika, Double Dholki - Saurabh
9.05 pm: Salman begins the weekend ka vaar with a recap into the roller-coaster ride last week was inside the house. Housemates declare Romil as the most 'shaatir' contestant within the house. Romil calls Nehha 'Zero'.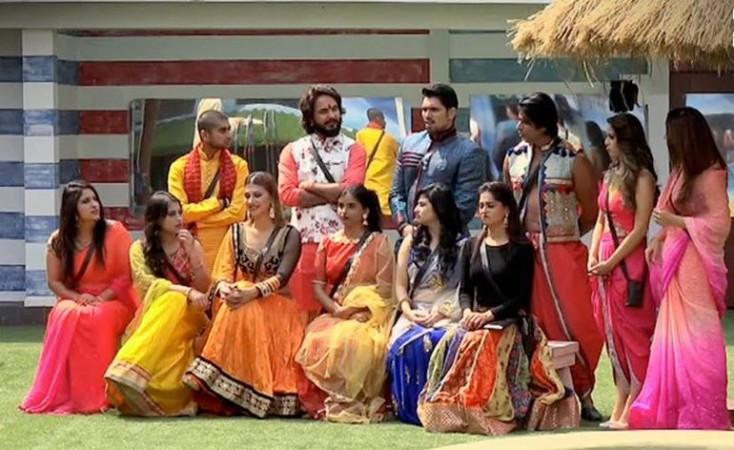 Brace yourselves to witness some high-voltage drama on the fourth weekend ka vaar tonight. The biggest highlight of Bigg Boss has always been its weekend ka vaar episodes with Salman Khan and going by the promo, tonight's going to be no different.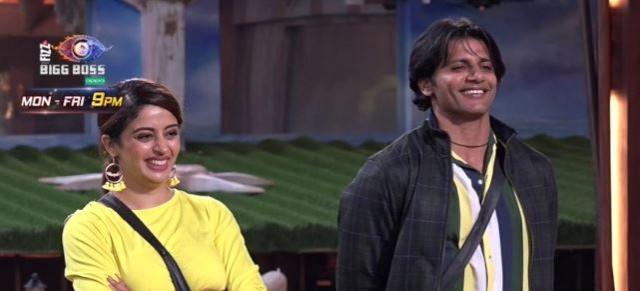 What's going to keep us on the edge of our seats is the fact that either Anup Jalota or Sreesanth might make a re-entry into the house tonight.
While our IBTimes poll survey has predicted that audience want to see Nehha Pendse leave the house on this weekend ka vaar, who amongst the two (Karanvir Bohra and Nehha Pensse) get the axe tonight remains to be seen.
So sit back with some popcorn and fizz, as we cover the high-voltage drama live for you at 9 pm.