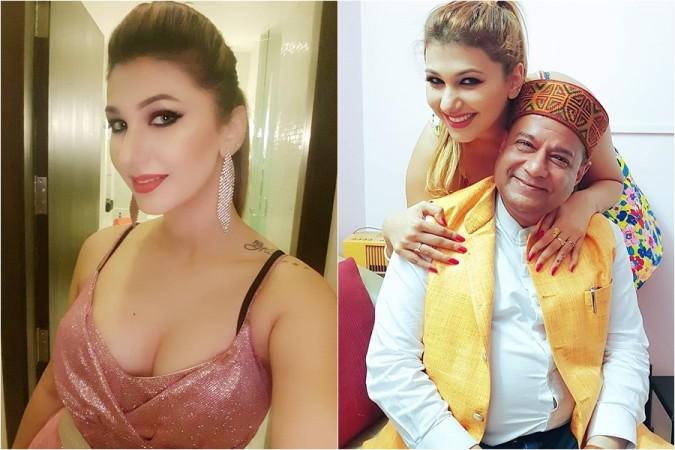 The tension and turmoil within the Bigg Boss house seems to be going a notch higher with each passing day. Amid a lot of drama, chaos, emotions, fights and animosity; six names were nominated to be evicted this week. Saba Khan, Saurabh, Karanvir Bohra, Srishty Rode, Jasleen Matharu and Urvashi are the six contestants who have been nominated for eviction this weekend.
The twisted elimination process involved jodis being dissolved and the jodis themselves had to decide whom to vote among the two for nomination. While the news of jodis being dissolved in itself was a shock for many, they would also have to nominate each other.
Deepak and Urvashi mutually decide to nominate Urvashi based on her non-performance and involvement in the house. Urvashi agrees with Deepak's decision. Saba and Somi break into tears upon hearing the news. However, Somi takes a firm stand for herself and nominates her sister Saba, because of whom they had been banned from becoming captains of the house throughout the season.
Saurabh and Shivashish had mutually decided to nominate Shivashish and had given the name to Bigg Boss. Captains Romil and Surbhi were safe from the weekend elimination. And when Bigg Boss asked them if they were satisfied with the decisions, Romil and Surbhi opined that Shivashish should be saved and Saurabh should be nominated instead.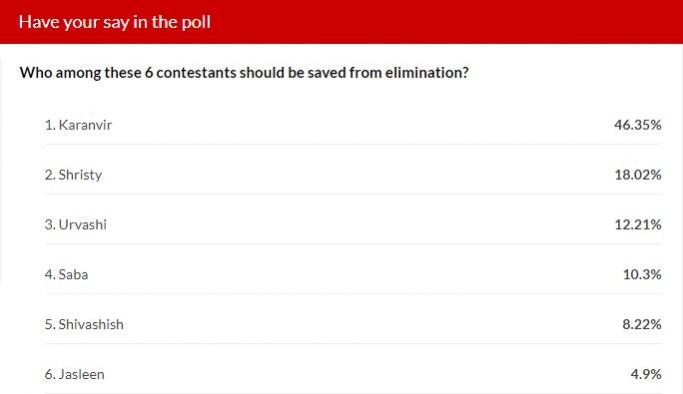 On the other hand, among the celebrities, it was Dipika who saved herself from the nominations by saying that she has performed the most and deserves to be saved, which left Srishty, Jasleen and Karanvir nominated.
Now, as per the IBTimes poll, just like previous weeks, Karanvir Bohra has emerged as the name which the audience wanted to save the most. With 46.35% votes, Karanvir is leading the race of who should be saved in the elimination this weekend.
Srishty is the second most loved contestant this season with 18.02% votes in favour of her. Urvashi has bagged third place in the survey with 12.21% votes followed by Saba Khan with 10.3% votes. Jasleen has received the least number of votes in favour of her which is a meagre 4.9%.
Now who would face Salman Khan's eviction axe, remains to be seen.