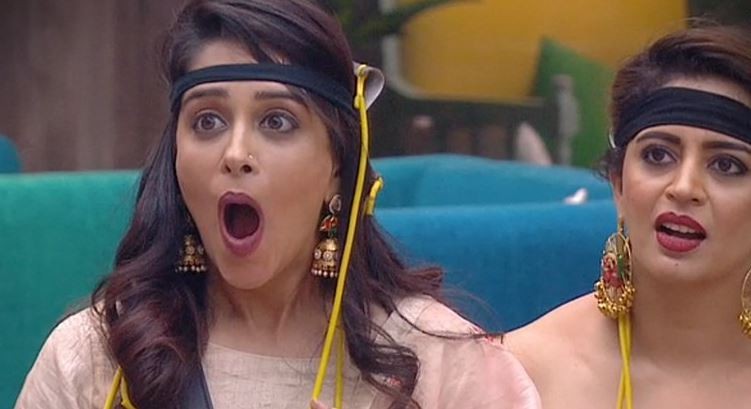 The contestants of season 12 of Bigg Boss, seem to have watched and studied the acts and mannerisms of the previous seasons thoroughly. We had recently told you how we felt Srishty Rode was trying to copy Hina Khan's look and the latest we feel is that Dipika is also trying her best to show herself as last season's winner – Shilpa Shinde.
The obvious question you would ask us now is – how? Well, let's take a look at these few reasons which makes us believe so.
Kitchen Queen: First and foremost, her dominance over the kitchen. Just like Shilpa Sinde used to love being a part of the kitchen team, Dipika Kakkar also doesn't like being shifted to any other area for household chores. She loves cooking, feeding the housemates and being at the centre of attention just like Shilpa was last year.
Jagat Maata: Just like Shilpa Shinde, Dipika also tries to portray herself as the councellor/ guide/ mentor to many housemates. While she had Nehha Pendse under her control completely, Urvashi too considers Dipika like her mother. Even when it comes to Sreesanth, Dipika has him entirely under her control by pretending to be the only one who cares for him truly.
Dressing style: If you have closely followed the previous season, you would have noticed that there's a striking similarity between the way Dipika dresses up and Shilpa used to, inside the house. Not only do they both prefer wearing loose, comfortable clothes like track pants and t-shirts on regular days; even on the weekend episodes, their choice of clothing remains quite similar. They both prefer Indian attire over western coupled with minimalist make-up.
Strong minded player: Just like Shilpa, contestants turn up against Dipika in this season as well. Celebrity guests, wild-card entries and even Salman calls her a – mastermind, a game changer and a strong-minded player. The same attributes which were earlier used for Shilpa Shinde.
Do you agree with us? Let us know.