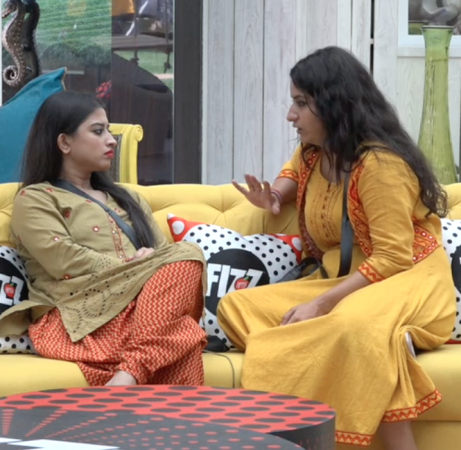 Imam Siddiqui, Dolly Bindra, Kamaal R Khan, Swami Om are the some of the names which we would never be able to erase from our memories. Courtesy – their horrendous and insanely annoying behaviour inside the Bigg Boss house. And while, no one from this season has been as berserk as them, there are many who have come quite close to their level of annoyance.
International Business Times, India had conducted a survey to find out who the audience thinks are the most irritating contestant this season. While the results are pretty much as expected, few might find it bewildering.
Our readers have declared wildcard entry Surbhi Rana as the most irritating contestant of the season. With 46.47% votes, the ex-Roadie is leading the chart followed by S Sreesanth. Rana, known for her bindaas attitude, irked many housemates upon her arrival inside the house. The most explosive firecracker of this season, Rana is the only one who is managing to give the housemates a tough time this season.
Sreesanth who has proved himself to be nothing more than a cry-baby has bagged the second place in the race. With 23.02% votes, Sreesanth has miserably failed at the expectations of the audience. Just a few days ago, fed up with his double-faced attitude and hypocrisy, netizens had demanded Sreesanth's eviction sooner than later.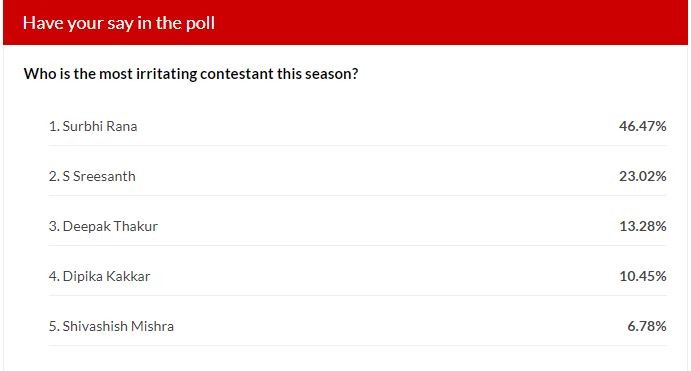 As expected, Deepak Thakur is the third person in the list with 13.28% votes. While in the beginning, he appeared to be one of the most sorted contestants, with time his real personality has been exposed. Thakur not only creates unnecessary fights within the house but is also one of the major gossipmongers inside.
Surprisingly, Dipika Kakkar, who has been on the radar of the housemates over the last few weeks, has bagged fourth position on the list with 10.45% votes.
Last but not the least, we have Shivashish Mishra, who hasn't been able to bring forth his real personality in front of the audience yet. Mishra received a meagre 6.78% votes.