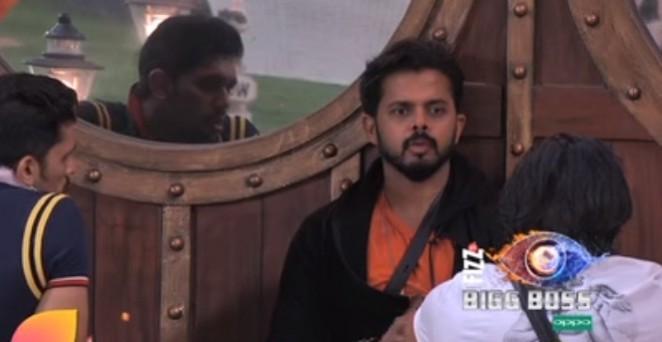 When it was confirmed that former cricketer, Sreesanth, would indeed join this year of Bigg Boss, fans had gone into a frenzy. Social media flooded with excitement upon seeing Sree on the show. However, what followed in the next few months, not only left us disappointed but utterly shocked too.
We got to see the other side of Sreesanth on the show, which we hadn't expected to see. And not all of it made up for a pretty picture, for sure! Let's take a look at the five reasons we feel Sreesanth should not win the show.
Disrespectful: Surbhi Rana has the potential of taking things to a nasty level. Agreed! But, Sreesanth knows how to hit below the belt too. And at times, surpasses Rana too. A closer look at the uncut videos and footage on Voot and you'd know how easy it is for Sreesanth to say mean, disrespectful and nasty things to the women in the house.
If fighting with other housemates wasn't enough, Sreesanth even made some really unsavoury comments on Dipika Kakkar during the week when Vikas Gupta and Shilpa Shinde had entered the show.
"Mujhe lena nahi dena aata hai" and "tu khada nahi ho sakta," these are some of the few statements which made us quite uncomfortable as viewers. He even got pulled by Salman several times for going too far.
Aggressive behaviour: Sreesanth's habit of chest banging, aggressive body language and hostile demeanour is something which can't be ignored. In fact, fans had demanded his eviction when he had almost slapped Rohit Suchanti on the show.
Till last night's episode, his intimidating body language during Surbhi's task was something we didn't appreciate.
Quitter: How many times did he try running away from the house? How many times did he give up during tasks? How many times he lost his cool in the middle of the task and cried like a baby later?
We want to see someone who does all the tasks with full sincerity and passion. For those of you, who followed him on the dance reality show, Jhalak Dikhlaa Jaa, you would know that he has always been a quitter.
Even on that show, Sreesanth never used to take criticism positively and had many times threatened to quit the show. Manu Punjabi, Manveer Gurjar, Gautam Gulati, Gauahar Khan – all were known for their fighting spirit and not giving up attitude.
Not giving it his all: On several days we feel that Sreesanth hasn't actually given his 100% to the show yet. We have only got to see one aspect of his personality mostly, whereas we know for a fact that he isn't like this in the outside world.
No desire to win: Sreesanth appears to be too complacent with where he is today. More often than not, we have also seen him making fun of the show, trying to put the showdown. His numerous sentences prove that he doesn't have the zeal or the desire to win the show.