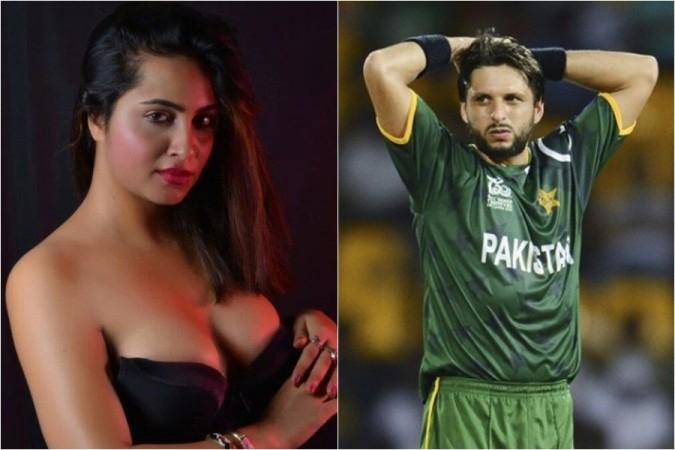 Former Bigg Boss 11 contestant Arshi Khan had sparked controversy when she claimed on Twitter that she had sex with Pakistani cricketer Shahid Afridi in 2015. But it seems like the controversial diva is feeling sorry about her infamous tweet now.
"I respect Mr Afridi a lot. He has done a lot for me. That tweet was a mistake and I should not have addressed him openly about such sensitive issues. Afridi Sahaab ke bahut ehsaan hai mujhpar," Arshi Khan said when she appeared on Rajeev Khandelwal hosted TV show JuzzBaatt along with her BFF Rakhi Sawant.
During her stint in Bigg Bogg 11, Arshi Khan grabbed attention with several steamy videos and also claimed that she was pregnant with Shahid Afridi's baby. Later, she confessed that she wasn't pregnant and clarified that it was a joke.
In 2015, Arshi created quite an uproar on Twitter when she tweeted, "Yes, I had sex with Afridi! Do I need the Indian media's permission to sleep with someone? It's my personal life. For me it was love."
South actress Gehana Vasisth had also called out Arshi Khan's fake claims of having sex with Shahid Afridi last year.
"Forget about having sex with Afridi, Arshi Khan has never met him face to face or even spoken to him on the phone even once in her life time," she said.
Apart from her infamous tweet, Arshi Khan also has a bitter past when she was suspected to be part of a flesh trade racket in Pune in October 2016.
As per a report in Pune Mirror, Arshi was caught in a raid by the Pune Police who alleged that she was in the city for prostitution with two of her agents who were said to be soliciting clients on her behalf.
The cops also claimed they recovered used and unused condoms from her room during the raid. While the men were jailed, Arshi was sent to a rescue home, from where she fled.
As for the Goa incident, Arshi was arrested by the Goa Police from a five-star beachside hotel for prostitution, according to enewzhub.com. The report further stated that she flew back to Mumbai after convincing the cops that she was innocent.