Hina Khan seems to have become a villain in the television industry due to her actions in the Bigg Boss 11 house. She recently commented on three top actresses in the industry – Gauahar Khan, Sakshi Tanwar and Sanjeeda Sheikh – which irked many TV actors.
Yeh Hai Mohabbatein actors Karan Patel and Anita Hassanandani slammed Hina on social media. While Karan called her "hyena", Anita wrote: "#Sakshi #Gauhar #Sajeeda r the prettiest inside out ♥️❤️♥️#positive vibes only. [sic]"
Hina compared her popularity on social media to that of Gauahar and said: "Gauahar ke bohot kam followers hai. Matlab mere aadhe ka aadha bhi nai hai uske paas (Gauahar has really less followers. She doesn't even have one-fourth of what I have on Twitter)."
In reality, Gauahar Khan has 2.17 million Twitter followers compared to Hina Khan's 124,000; whereas Gauahar is at 1.6 million and Hina at 1.7 million on Instagram.
Gauahar didn't keep calm and decided to give it back to the latter.
"Acchaii aur tameez toh seekhi nahi, math karna seekha hota toh aaj jhoote ghamand me aake kahi gayi baat pe log itna haste nahi..Lol!!! Allah sabko tarakki de.... Ameen!! Ghamand be aaj tak kisi ka kuch bhalaa nahi kiya..(People wouldn't have laughed at your statements if you would've studied how to do math. Vanity has done nothing good to anybody till date.) sakshi tanwar u are beautiful," Gauahar said of to Hina's statements on Twitter.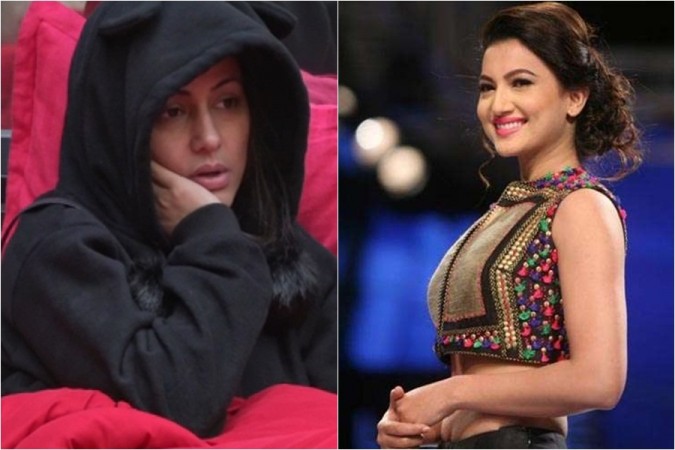 Many TV celebrities supported Gauahar and shared their views on social media. Ex-Bigg Boss contestant Sambhavna Seth has now joined the bandwagon.
Sambhavna wrote:
#shameonyou @eyehinakhan Being an actress hw can #Hinakhan say such mean things abt a brilliant actress #SakshiTanwar who has achieved much more than her..
leave looks darling let's be human first & #sakshitanwar looks way prettier than u."
#shameonyou @eyehinakhan don't judge @GAUAHAR_KHAN popularity by her followers . the love she got from ppl I Hv a doubt u will ever be able get that.
u even lost the little you had.
There r millions who love @GAUAHAR_KHAN & I am one of them & cant take a single word against her."