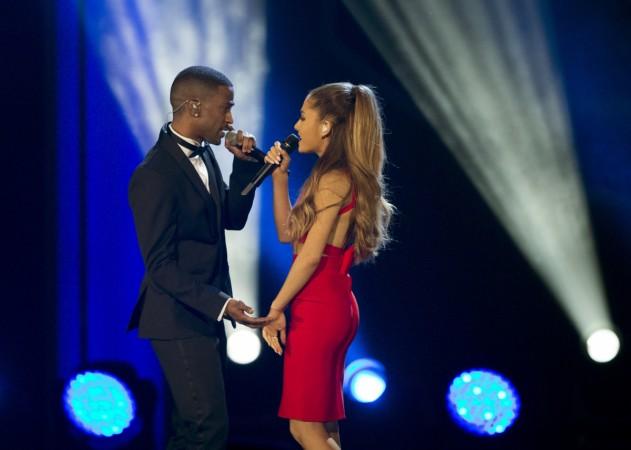 It was only last month that Ariana Grande confirmed her relationship with Big Sean, but a recent report notes that several mannerisms of the pint-sized singer is already driving her beau up the wall.
Grande reportedly constantly uses her baby voice during her conversations with Sean. "Instead of saying. 'I'm thirsty,' she'll pout her lips and say, 'I want to dwink a widdle hoosh,'" a friend told Star, according to Oceanup. "Sean thought she was kidding at first, but now he's had it."
To make matters worse, Grande even uses the baby voice when the couple gets intimate, the source said.
Another thing Sean reportedly hates about the "Problem" singer is her signature ponytail
"He's totally encouraging her to wear her hair down more. She's attached to her big ponytail because it makes her feel protected and more confident, but he's making her feel like she doesn't need that. He tells her she's beautiful with the ponytail too, but he's been encouraging her to wear her hair down more, he likes it."
The couple ignited dating rumours back in August when a Twitter user revealed that the two were spotted kissing in a movie hall. Soon after they were photographed holding hands and kissing.
For Grande, the relationship is yet in its honeymoon phase, as she recently gushed about her new boyfriend to Now Magazine, saying, "I like boys with a bad boy kind of style, but Sean's the best boy I've ever met. He's a sweetheart."
"I'm not that open... I'm still a little shy about it. But I am very happy and very loved-up," she said, according to Mail Online.
Grande previously dated Nathan Sykes and Jai Brooks while Big Sean was engaged to "Glee" actress Naya Rivera.
On Tuesday, the duo performed at A Very Grammy Christmas event in Los Angeles where they sang their duet "Best Mistake", and during the whole time she couldn't keep her hands to herself. Following the performance, the couple took to their respective Instagram accounts to share pictures from the event, and Sean captioned one photograph, "'Me n my Ari."