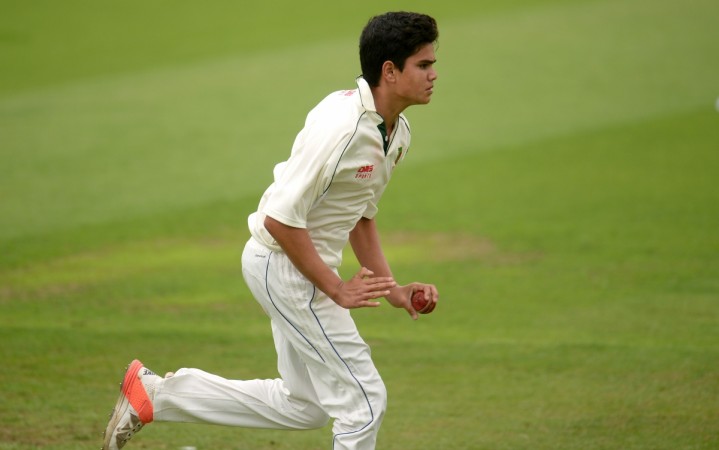 Arjun Tendulkar is set to follow in his legendary father Sachin Tendulkar's footsteps in Australia. The left-arm paceman will have a chance to do what his dad did Down Under.
Come Sunday (January 14), Arjun will walk on to the historic Sydney Cricket Ground (SCG). The 18-year-old is in Australia to represent Cricket Club of India (CCI) in the Spirt of Cricket Global Challenge Twenty20 tournament.
Arjun has already made his mark in Australia. He impressed with an all-round performance on Thursday (January 11) when he took four wickets and scored 48 off 27 at Bradman Oval against Hong Kong Cricket Club.
Now, he is set to play in SCG, where his father enthralled the crowds with some memorable knocks in both Tests and One Day Internationals and called it his "favourite" outside India. During the 2004 Test series, Tendulkar hit a majestic 241 not out where he did not play a single cover drive.
According to a report in the Sydney Morning Herald newspaper, Sachin is set to make trip to Austraila to watch Arjun play at SCG.
"The SCG has obviously been my favourite ground away from India. It's a terrific ground, a special place. I love the atmosphere. It's wonderful. There are these certain grounds where you walk out there feeling you're going to do well and the SCG is one of those grounds where I feel comfortable," Tendulkar had told The Daily Telegraph in 2011.
West Indian great Brian Lara had rated Tendulkar's 241 not out at SCG as one of the best knocks from him.
"I remember the series against Australia when Sachin didn't play a single cover drive till the time he reached the double century," Lara had said in October 2013.
Another legend, Ricky Ponting, Australia's former captain, too had praised Tendulkar's innings at SCG. It came during Steve Waugh's farewell series. The match ended in a draw.
"At Sydney in 2003-04, when he was going through rough time, he didn't play a single cover-drive: I had immense appreciation for that level of discipline and determination.
"It's one thing to have a plan, but to go out there and execute it over the course of the innings that lasted 10 hours and 13 minutes, 436 balls and 241 runs was just incredible. And he was still not out at the end of it," Ponting had written in the book Tendulkar in Wisden: An anthology.
In 2012, Tendulkar became the first overseas cricketer to receive an honorary membership of SCG. In five Tests at SCG, the Master Blaster averages 157, scoring 785 runs. In seven ODIs at the venue he scored 301.