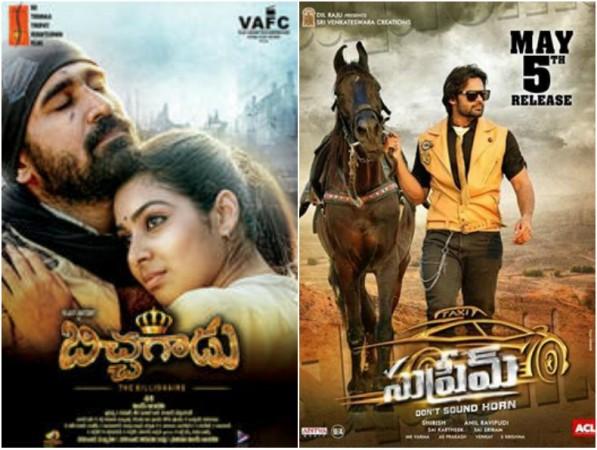 Bichagadu starring Vijay Antony and Satna Titus has beaten the TRP of Sardar Gabbar Singh (SGS), but Sai Dharam Tej's Supreme has failed to shatter the record of power star Pawan Kalyan's film.
Bichagadu is the dubbed version of director Sasi's Tamil action thriller film Pichaikkaran. The movie has become a blockbuster hit at the box office and its massive success helped the film to get a whopping price from its satellite rights. The dubbed cinema recently had its premiere on MAA TV and it has become a blockbuster success on the small screen too.
Bichagadu has reportedly garnered 18.75 TRP in its TV premiere. RJV Aluri, an employee from MAA TV, tweeted: ".@vijayantony 's #Bichagadu creates sensation on small screen too ... 18.75 TRP's "
Director Anil Ravipudi's Supreme is an action comedy film featuring Sai Dharam Tej and Raashi Khanna in the lead roles. The movie has become decent hit at the box office and its satellite rights were sold for whopping amount. The film was recently premiered on MAA TV and it received superb response.
Supreme is said to have scored 14.79 TRP from its TV premiere and it is the highest points for film starring Sai Dharam Tej. RJV Aluri tweeted: ".@IamSaiDharamTej 's #Supreme Premiere gets 14.79 TRP's "
Sardar Gabbar Singh, which earned Rs 13 crore from its TV rights, had its television premiere on MAA TV on July 17 and the movie had got decent response from the TV audience. The film garnered 15.24 TRP. Now, Bichagadu has shattered the record with a huge margin, while Supreme failed in doing so by a small margin.
However, Lakshman Chadalavada acquired the theatrical rights of "Bichagadu" for Rs 50 lakh and spent around Rs 1.5 crore on its marketing. The movie has grossed over Rs 20 crore at the worldwide box office in its lifetime. It is estimated to have earned approximately Rs 13.50 crore to its distributor.