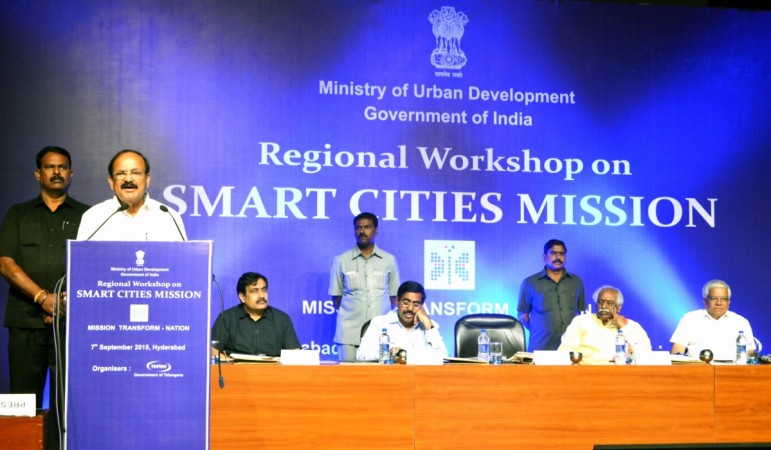 Delhi, Bhubaneswar and Pune are among the first list of 20 out of the 98 shortlisted smart cities announced by the government on Thursday. The cities, which will be the first to receive funds for their upgradation, were reportedly selected based on the result of Smart City Challenge Competition.
Apart from the Union Territory of Delhi, the list announced by Union Minister of Urban Development M Venkaiah Naidu includes cities from 11 States. Three cities are from Madhya Pradesh and two each from Gujarat, Maharashtra, Karnataka and Andhra Pradesh. Forty and 38 cities will be added in the next two years, respectively.
The competition "required cities to come up with integrated plans and proposals, so that there is maximum analysis and planning," PIB quoted Naidu as saying on Thursday, adding that local bodies and the state government will together have to upgrade their selected cities.
The Central government has allocated Rs 48,000 crore for the plan and will allot money to urban local bodies over a period of five years. The states selected under the plan will have to raise another Rs 48,000 crore for upgrading their cities. The completion of all smart cities is estimated to cost Rs 96,000 crore.
"Smart cities need to be inclusive, sustainable & effective engines of growth, fulfilling the aspiration of Young India," Naidu said.
The 100 smart cities (so far, only 98 have been shortlisted) will have adequate water supply, assured electricity supply, sanitation, solid waste management, efficient urban mobility and public transport, affordable housing, IT connectivity and digitalisation, good governance, and citizen participation, sustainable environment, safety and security of citizens, particularly women, children and the elderly, Health and education, The Hindu reported.
Rank-wise list of first 20 smart cities:

| | |
| --- | --- |
| 1. Bhubaneswar (Odisha) | 11. Indore (Madhya Pradesh) |
| 2. Pune (Maharashtra) | 12. New Delhi |
| 3. Jaipur (Rajasthan) | 13. Coimbattore (Tamil Nadu) |
| 4. Surat (Gujarat) | 14. Kakinada (Andhra Pradesh) |
| 5. Kochi (Kerala) | 15. Belagavi (or Belgaum in Karnataka) |
| 6. Ahmedabad (Gujarat) | 16. Udaipur (Rajasthan) |
| 7. Jabalpur (Madhya Pradesh) | 17. Guwahati (Assam) |
| 8. Visakhapatnam (Andhra Pradesh) | 18. Chennai (Tamil Nadu) |
| 9. Solapur (Maharashtra) | 19. Ludhiana (Punjab) |
| 10. Davanagere (Karnataka) | 20. Bhopal (Madhya Pradesh) |
#SmartCityChallenge required cities to come up with integrated plans, proposals,so that there is maximum analysis, planning: @MVenkaiahNaidu

— PIB India (@PIB_India) January 28, 2016
#Smartcities need to be inclusive, sustainable & effective engines of growth, fulfilling the aspiration of #YoungIndia: @MVenkaiahNaidu

— PIB India (@PIB_India) January 28, 2016
Local body and State have to work hard to upgrade their cities-Venkaiah Naidu on Varanasi #SmartCities pic.twitter.com/kKslbyY9uo — ANI (@ANI_news) January 28, 2016