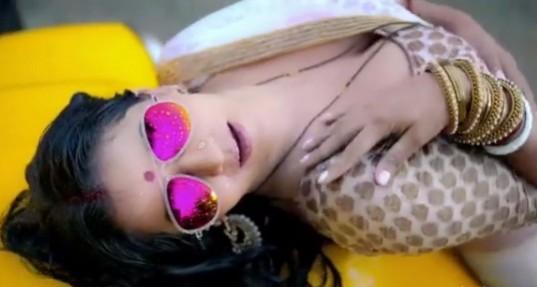 Bhojpuri actress Antara Biswas aka Mona Lisa has been steaming up Instagram with her sizzling Bengali "Jhuma boudi" avatar for web-series Dupur Thakurpo season 2.
Mona Lisa shared a video on Instagram in which she is seen making some hot dance moves in rain. It is a promotional video from the web series, and the popular Bhojpuri actress nailed it with her sensuous self.
While her dance moves are hot enough to make fans go crazy, Mona Lisa's look of a Bengali married woman, with the use of vermillion on her hair parting coupled with a red bindi and traditional Bengali bangles, further makes it worth watching. The use of sunglasses along with the traditional avatar gave it a cheeky touch too.
Apart from the videos, Mona Lisa has been sharing a number of pictures as well which are extremely sexy in nature. Despite wearing a saree, the sensuous diva knows how to flaunt her curves, and she does that with grace in the photos.
Dupur Thakurpo season 2 is a quirky story of a Bengali married woman, who is popular in the locality for her sensuous avatar, and some young boys who are awestruck by her beauty. While former Bigg Boss contestant Mona Lisa plays the central character of Jhuma Boudi, the young boys are played by Indrajit Majumder, Apratim Chatterjee, Kartikey Tripathi, Taufeeq Ahmed and Soumendra Bhattacharya.
Being born in a Bengali family, Mona Lisa is excited to be a part of the project. "I was really excited when they approached me for this role. We sat together and have discussed the minute details to make it a hit character. The look is very glamorous but as a person, Jhuma is very simple. It's her adaayein and way of talking that will make the young boys go crazy over her," she had earlier told The Indian Express.
The web series reportedly started on May 26.
Watch the sizzling videos and pictures of Mona Lisa from the show.