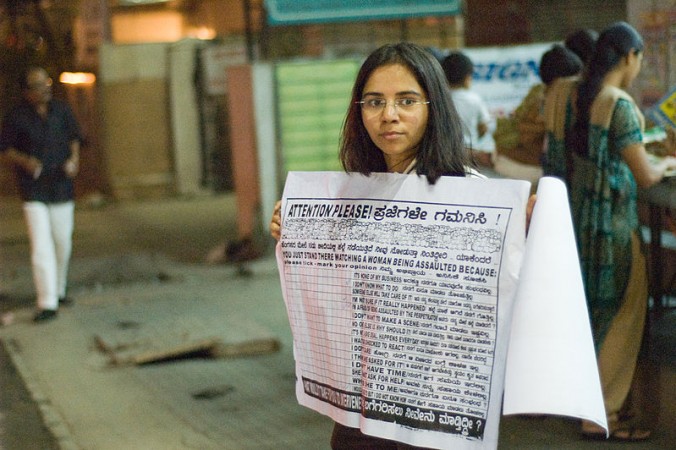 The Banaswadi area of Bengaluru has earned a bad name in the recent years for drug peddlers, credit-card scamsters and sexual assault on women. The area is unsafe even for policemen who recently headed there to arrest two drug peddlers only to be attacked by a group of local people.
Also read: Air hostess sexually assaulted by motorcyclist in Banaswadi
One police inspector and two head constables of the central crime branch team sustained injuries in the attack that took place on February 7. They were surrounded and pelted with stones by a group of 100-150 locals of Janaki Ram Layout who helped the two drug peddlers to escape.
A week later, an air hostess walking down a road at 10 pm was left injured after a bike-borne person attacked her. The passers-by came to her aid when she screamed but the attacker had already left.
However, not all residents of the area think that it is unsafe. But many do blame the growing number of people from the Northeast, West Asia and Africa for the area's problems. The grudge that the local people there have against the foreigners, especially the Africans, was clearly evident when this correspondent spoke to some who have lived in Banaswadi for a long time now.
"You mean the South Africans, Nigerians, etc..." is how the conversation flowed. However, facts do prove that there is truth behind their anger.
On February 11, a gang of African nationals were busted for cloning debit and credit cards. They were using magnetic card reader to clone the cards and swipe them to withdraw huge amounts of money. As much as Rs 21 lakh were recovered from the group.
Recently, 11 complaints were registered at Banaswadi police station against fraudulent debit-card transactions. While investigating, the officials were led to Kammanahalli near Banaswadi from where they found evidence to crack the case. Recently, a team of journalists took stock of areas like Banaswadi and Kammanahalli with police officers between midnight and 4 am to only find them to be deserted.
To look at the other side of the story, it is not that all Africans endorse the actions of the fellow nationals in the area. "We don't want our image to be damaged because of a few who have become a nuisance in Bengaluru," said Bosco Kaweesi, leader of the African Association and a legal advisor to all African nationals residing in the city.
"We've found tens of our people standing on the roads in the Banaswadi area late at night, smoking or drinking, disturbing the neighbourhood. We're working with the police to put an end to this practice and are urging them to finish their work and go home. The troublemakers are being asked to leave the country. We want a cordial relationship with people here in Bengaluru," said Kaweesi.
The police have also encouraged citizen policing in areas like Banaswadi, Yelahanka (Old Town). The programme was a success and will be expanded to 11 more police stations in the city.
There are enough examples of Indians also being involved in crimes in the area. An Indian man was reportedly chased and hacked by some people in December 2016 in front of Orion East Mall. Hence, solely blaming the foreigners for the problems doesn't lead us to the right direction.